Joined

Jul 31, 2014
Messages

246
Reaction score

175
I'm sure this gets asked a lot, but I couldn't find a conclusive thread.
I saw a YT video of a guy replacing grovers for gotoh on a Heritage LP. Looks like he was able to save 288g-157g = 131g or 4.6 oz
I know most of you guys couldn't care less about guitar weight, but I'm an old man and my back hurts if I play a 11lb+ Gibson for more than 60mins straight. The guitar in question currently has 9.2 lbs.
The only major requirement I have is to not make permanent mods to the guitar and be able to roll back to original if needed.
Looks like the exact model the person used is this one is sxn510v
But, looking at the specs below, even if I chose not to drill the second hole, the bottom hole is off by 0.5mm (10.0mm gotoh vs 10.5mm grover)
Is there a more direct replacement that is at least 90g/3oz lighter than these milk bottle Grovers?
I'm also looking at hipshot with universal mounting plate...Installing hipshots alone would give back 3oz/86g ...
But the weight savings of the open gear Gotoh is very tempting.
maybe a lighter tailpiece could give another 2oz/60g.
Here are the specs of the Gotoh one: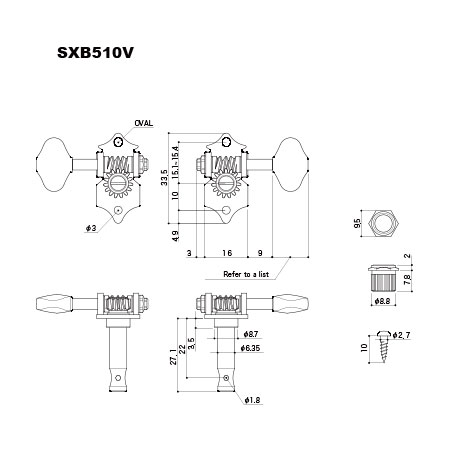 And here are the grovers (I think these are the specs of mine)
Here is the video I'm talking about
Last edited: