Joined

Nov 28, 2008
Messages

119
Reaction score

80
Ya know...I love the Beatles. I always think I'm gonna be one with my songwriting and playing, but it never works out apparantly. Imagine that....lol. I bought a Rickenbacker 330/12 one time hoping I was gonna be George, but that didn't pan out. I guess I was just born to rock and play Les Pauls.
Anyways, I digress.... What I got here is a Gretsch G6119-1962HT Tennessee Rose up for sale. I bought this guitar in November of 2006. It's a great guitar, but once again, it's just not "me" and I never play it. I know for a fact that it doesn't have no more than an hour of playing time. I'll give it a 9.5 out of 10 as far as it's condition is concerned. The only reason I'm not giving it a 10 is because it's been played. As afforementioned, less than an hour actually.
I really don't want to part with it, but recently I've been feeling rather guilty about having so many guitars that I don't play. It's kinda sad and I feel bad for the guitars. You know, it's like someone having a dog chained up in the back yard that never gets any attention or petted. Sorry, that's the best analogy I could think of.
I'll put it on you for $1200 plus shipping. I really only wanna do this here in the lower 48 states. I don't really wanna do Paypal either, but I guess I will if you'll add the 3% or whatever they charge.
Here's some pics I took a couple months ago my cell phone. They're not the best pics in the world, but you get the idea.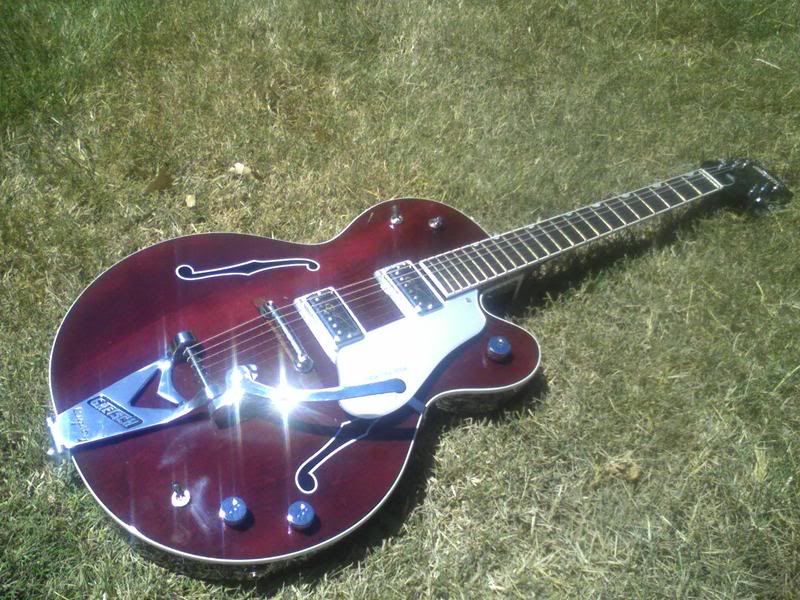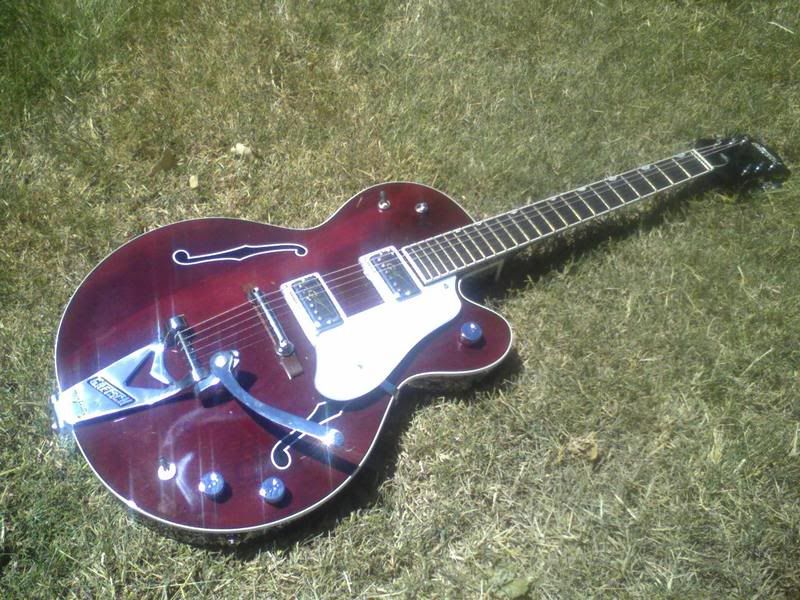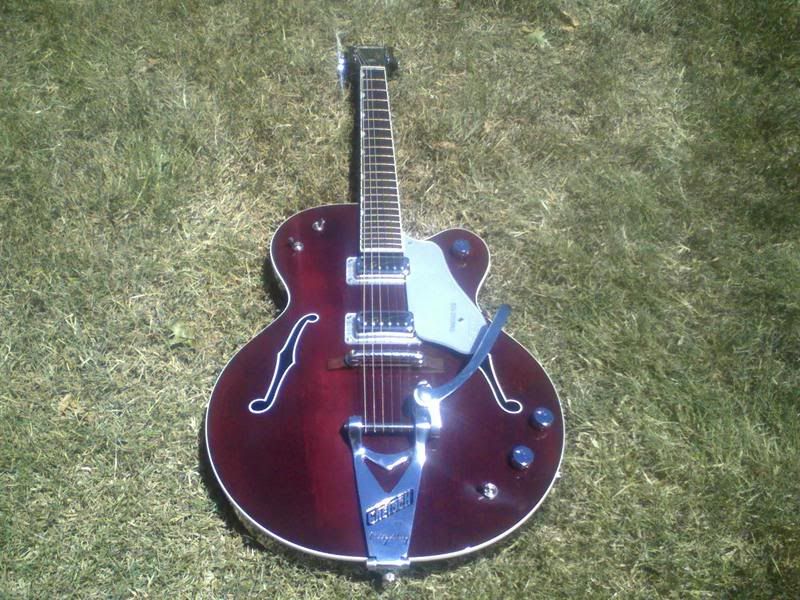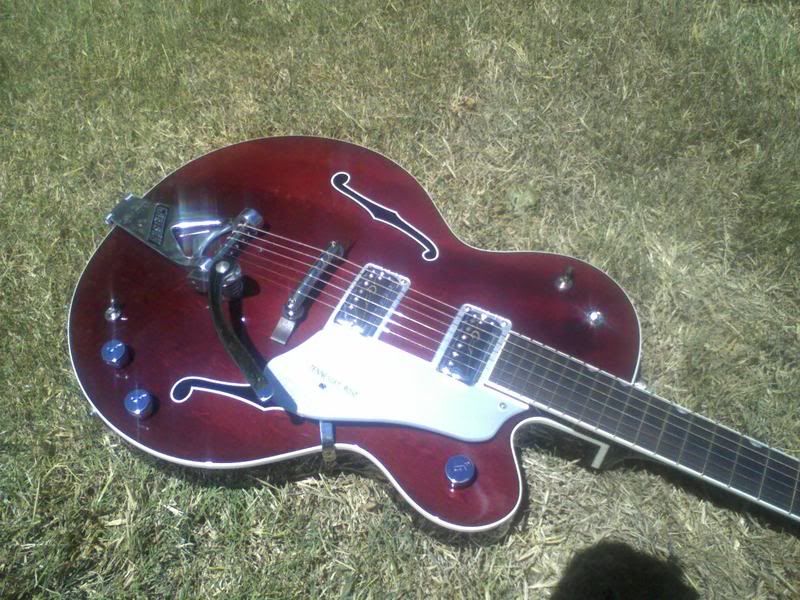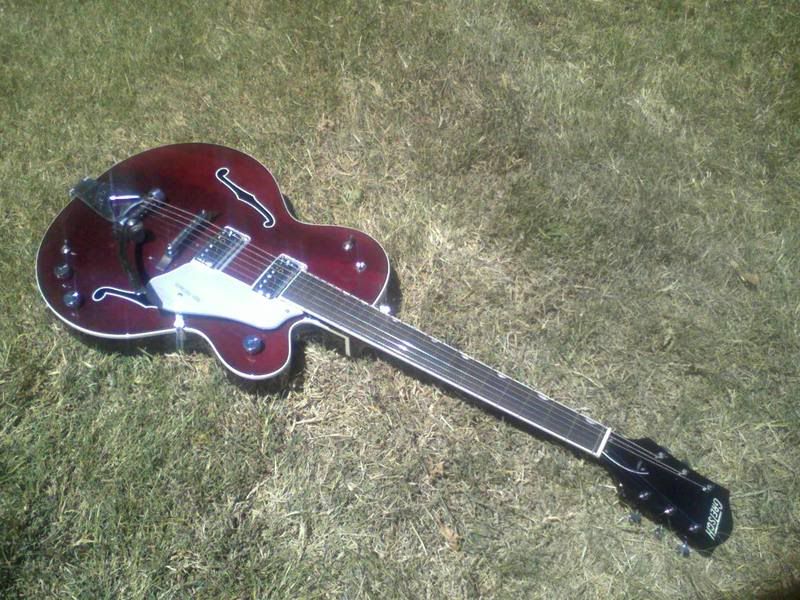 One of the most recognizable icons of '60s pop returns in the Gretsch Guitars G6119-1962HT Tennessee Rose Electric Guitar! Silky smooth tone comes from dual HiloTron adjustable pickups. Period-correct laminated maple top helps eliminate feedback troubles. Bound thinline body has simulated f-holes. The ebony-stained rosewood fretboard, chrome hardware, and neoclassic position markers lend gorgeous vintage looks while zero fret, solid bar bridge, Gretsch Bigsby vibrato, and Grover Sta-Tite tuners make it a guitar player's dream.
Laminated rock-maple neck
Rosewood ebony-stained fingerboard
24-3/5" scale, joined at 14th fret
Bound fingerboard
Neoclassic position markers
Black headpiece, pearl inlaid
16" side, 2" deep body
Laminated maple construction
Bound body
Simulated F-holes
Single cutaway
Dual high-sensitivity HiLoTron adjustable pickups
Tone switch
Standby switch
Volume control for each pickup
Master volume control
Chrome hardware
Solid brass control knobs, chromeplated
Grover Sta-Tite tuners
Zero fret
Bar bridge
Gretsch Bigsby vibrato tailpiece
I hate to sell it cause it really is a badass guitar, but I just hate for this puppy to never get petted. If you wanna be George Harrison, then this guitar is you!!!
If you have any questions then fire away.