Joined

Aug 15, 2011
Messages

173
Reaction score

113
Hi folks,
I have the below guitar, and the 4 pots sound noticeably worse than on my other 3 Gibson USAs: when engaged the vol and tone pots provide that muffly 'blanket on amp' tone that forces me to ride all the controls at 10, all the time.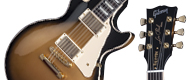 The Bill Kelliher "Halcyon" Les Paul takes its classic mahogany/maple foundation from this savage-riffing guitarist's longtime favorite singlecut, and blows it through the bedrock with a pair of eviscerating Lace Dissonant Aggressor pickups, with push-pull coil splitting on their individual...
espanol.gibson.com
Looking in the cavity the caps are these teeny tiny little blue cylinders but the (push /pull) pots themselves seem to be CTS 500s. The wiring looks like a rat's nest (something I have read about before on forums, regarding this model, I can provide pics later). I bought the guitar used from a guy that didn't mod it at all he told me, except for moving the ridiculous TRC.
In addition, after a long pickup quest to find my perfect set for this guitar, my ham-fisted soldering temps have resulted in scratchy volume pots, So I am tempted to purchase a wiring harness that can add clarity over anything else. I'm currently eyeballing the Obsidianwire option, but it is plenty spendy.
A lot of the praise I hear about these wiring looms are from people upgrading Epihones, Squires, and other less expensive guitars and I'm concluding that those harness upgrades really only yield results for guitars with worse stock electronics then my Halcyon.
So my question is as follows: are the stock components on the Halcyon just as good or bad as on the rest of the Gibson USA line, and will buying a fancy wiring loom GUARANTEE me clearer tone?
Or should I just replace the scratchy pots?
If anyone knows of less expensive wiring looms than £100 - £120 in the UK, please chime in!
Thanks all!
Last edited: