After seeing many of the debacles of Henry J era, I can't help but wonder how things might be different if he'd never got his hands on the company...
In 1980, Norlin put Gibson up for sale. Two years later, Bill Schultz and his associates took control of Fender from CBS. 1986 saw Henry J and his Harvard School of Business cronies buy the Gibson name and assets cheap.
But, what if Schultz and co felt it wasn't just their duty to save Fender, but to save the entire classic American electric guitar industry?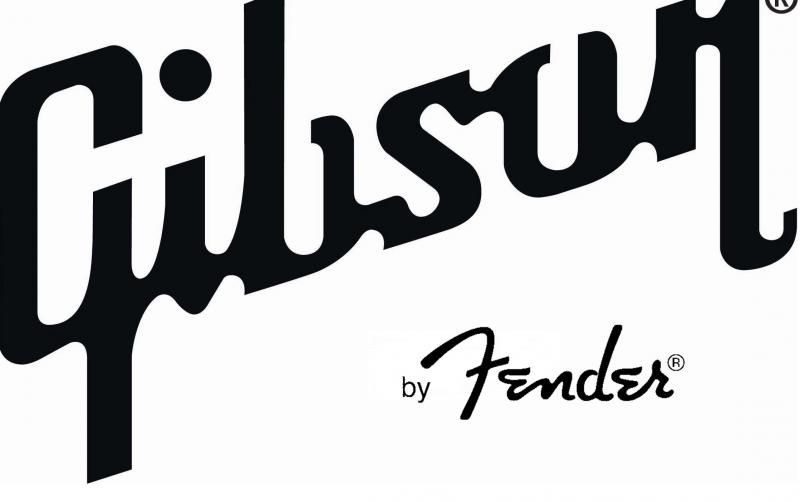 1985 - Bill Schultz buys Gibson from Norlin for 10 million USD, outbidding Henry J and Harvard grads by double
1987 - Les Paul, SG, Flying V, and Explorer models appear, branded with the above logo. There are two lines - one in Mexico, built alongside the Mexican Fenders; and a USA line. These bear the Gibson USA logo but have some sort of "Gibson and all likenesses thereof are trademarks of Fender Musical Instruments" language on the back of the headstock. Later, ES-335 and ES-137 models appear on the USA line, but a Korean line of semihollows (like Gretsch's Electromatic liine) soon follows.
The Gibson by Fender line:
Les Paul Junior: Doublecut, single dogear P90, wraparound bridge. TV Yellow and Cherry poly finishes. Rosewood fretboard with dots.
Les Paul Special: Same hardware and finishes as the Junior but with 2 P90s. Bound neck.
Les Paul Standard Plaintop: Arched maple top, dual covered humbuckers (P90 option added later), bound neck and body. Goldtop, natural, and ebony poly finishes. Cream plastics. Rosewood fretboard with traps.
Les Paul Standard Flametop: All of the above specs with a flame maple veneer. Cherry Sunburst, Tobacco Burst, natural, transparent Wine Red, and transparent blue (like "Chicago Blue") poly finishes.
Les Paul Custom: Arched plain maple top, dual covered humbuckers, multi-bound body and headstock, single bound neck. Ebony, ivory, Wine Red, and natural poly finishes. Ebonized rosewood fingerboard with blocks.
Gold hardware. Black plastics.
SG Junior: Wraparound tailpiece. Single dogear P90. Rosewood fingerboard with dots. Cherry and white poly finishes.
SG Special: Same as the above with 2 P90s.
SG Standard: Dual humbuckers, tuneomatic bridge, rosewood board with traps. Large late 60s pickguard. Ebony, cherry, and vintage burst poly finishes.
SG Custom: Triple humbuckers, bound neck and headstock. Tuneomatic bridge. Gold hardware. Ebonized rosewood fingerboard with blocks. Ivory and ebony poly finishes.
Flying V: Dual humbuckers. Rosewood board with dots. Ebony or faux korina poly finishes. Late 50s pickguard and control configuration. Gold hardware.
Explorer: Like the above in an Explorer style.
ES-335: Think an Epiphone Dot with a Gibson headstock.
ES-137: Like the above, in a 137 style.
The USA line would have all of the above but with nitro finishes, real flame maple tops, ebony fretboards on the Les Paul and SG Custom and fret-edge binding ("nibs"). There would also be a Les Paul Studio like we know today, a Melody Maker based on the late 60s doublecut model with two singles and an optional Maestro trem, and a Custom version of the Flying V. Additional options such a middle pickup for the Les Paul Custom and the late 60s pickguard/control setup for the Flying V would be exclusive to the USA line.
Or, Gibson would go down in flames but be resurrected by

much in the same way Dimebag Darrell resurrected Dean Guitars.
I know it's pointless to speculate on such things, but I like to anyway. I also think my Gibson by Fender line idea would be a fair Gibson import line (except they'd have real flamed maple and ebony boards).
What do you guys think (other than I've got way too much time on my hands)?