Here is my Fender Elvis Costello Signature Series Jazzmaster in like new condition. Still has plastic on the pickguard. Comes with original G & G case, hang tags, owners manual, owners registration, and trem bar. There is one small scratch on the front of the guitar but it's so small that it cannot be seen in the pictures (professional photographs). These guitars have been discontinued and are rare unlike the other Signature Series Jazzmasters.
These guitars retailed for $2,599.00, putting them a step above the AVRI Jazzmasters. E-mail me with any questions/offers at john.castronova AT gmail.com
Cash price: $2,000.00 shipped and gift paypaled (have references) - if not add 3%
Trade value: $2,200.00
Interested in: Gibson Les Pauls (perfer chambered), high end Stratocasters, high end Telecasters, Shur's or anything else cool... feel free to offer anything up but I'm not into shredders. Would do trade plus cash deal and I can add cash if need be.
No SG's please.
Here are the specs:
Just Like Costello's '77 Axe!
Fender's Elvis Costello Jazzmaster™ guitar pays tribute to one of the most recognizable Jazzmaster players in pop music history. Throughout the past 30 years, Costello's own Jazzmaster has gone through many changes, but the FENDER® Elvis Costello Jazzmaster faithfully replicates his guitar at the time he recorded his critically acclaimed debut album, My Aim is True. Complete with an early '70s neck design, loose and smooth-traveling tremolo for a decidedly "spy movie feel," walnut stain finish, and vintage-style tuners - the Elvis Costello Jazzmaster looks just as jazzy as it plays!
Fender Elvis Costello Jazzmaster at a Glance:
•The look and feel of Costello's own
•Vintage-style appointments and accessories
The look and feel of Costello's Jazzmaster
In 1977, Costello made a splash with his debut album, My Aim is True. This Fender Elvis Costello Jazzmaster pays tribute to Costello's guitar at the time of the album's recording, and includes a host of vintage-styled touches to give it the true feel and appearance of Costello's own. First, for that signature spy movie sound, the tremolo's tension is set looser, while the arm is bent at a steeper angle away from the body to provide more travel.
Vintage-style appointments and accesories
The Fender Elvis Costello Jazzmaster has a true-to-time late 60s/early 70s logo, as well as vintage Fender/Gotoh tuners. A custom walnut stain finish, and 4-ply brown shell pickguard add to this Jazzmaster's classic look, while Special Design American Vintage Jazzmaster single-coil pickups are seated in both the neck and bridge position to provide its excellent, vintage tone.
Fender Elvis Costello Jazzmaster Features:
•Replication of Costello's circa 1977 Jazzmaster
•Walnut Stain Finish
•Body: Alder
•Neck: Maple
•Fingerboard: Rosewood, 7.25"
•Frets: 21, Vintage Style Frets
•Scale Length: 25.5"
•Nut Width: 1.650"
•Hardware: Chrome
•Tuning Keys: Fender/Gotoh Vintage Style
•Bridge: Vintage Style "Floating" Tremolo with Trem Lock Button
•Pickguard: 4-ply Brown Shell
•Neck and Bridge Pickups: Special Design American Vintage Jazzmaster Single-Coil
•3-Position Pickup Toggle
•2-position Lead Circuit Slide
•Tremolo arm bent at steeper angle, and looser tension for more travel
•Late 60s/early 70s logo
•Case: Deluxe Brown Hardshell
Weight: 8lbs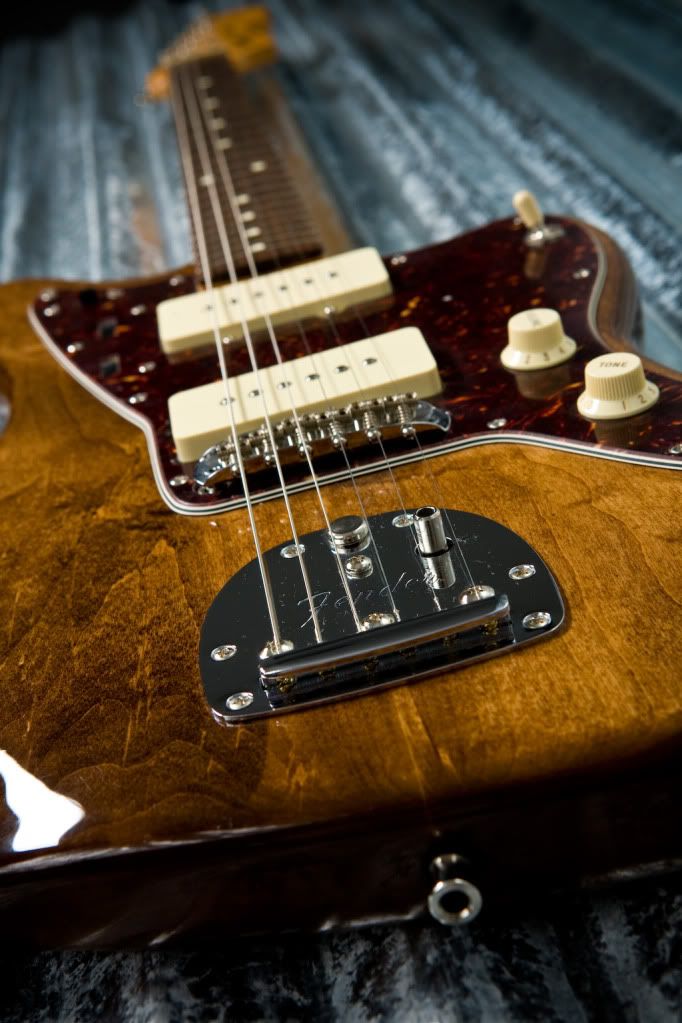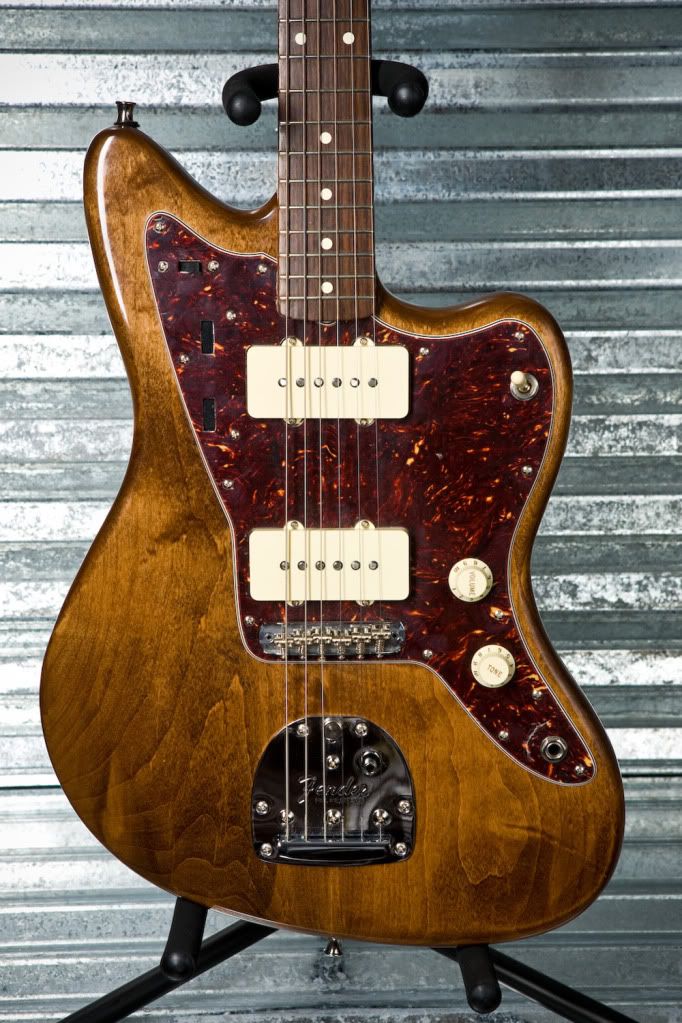 TON more pictures here:
Elvis Costello pictures by estaban22 - Photobucket