Joined

Feb 20, 2010
Messages

2,872
Reaction score

2,016
Alright guys, not sure I want to do this, but I'll start with a feeler thread to see if there is any interest in my badass 2013 Iced Tea R9. I need to raise some funds, so we'll see what happens. This is a quick iPhone picture I just snapped. It has lots of mods, but I would be willing to sell with or without mods.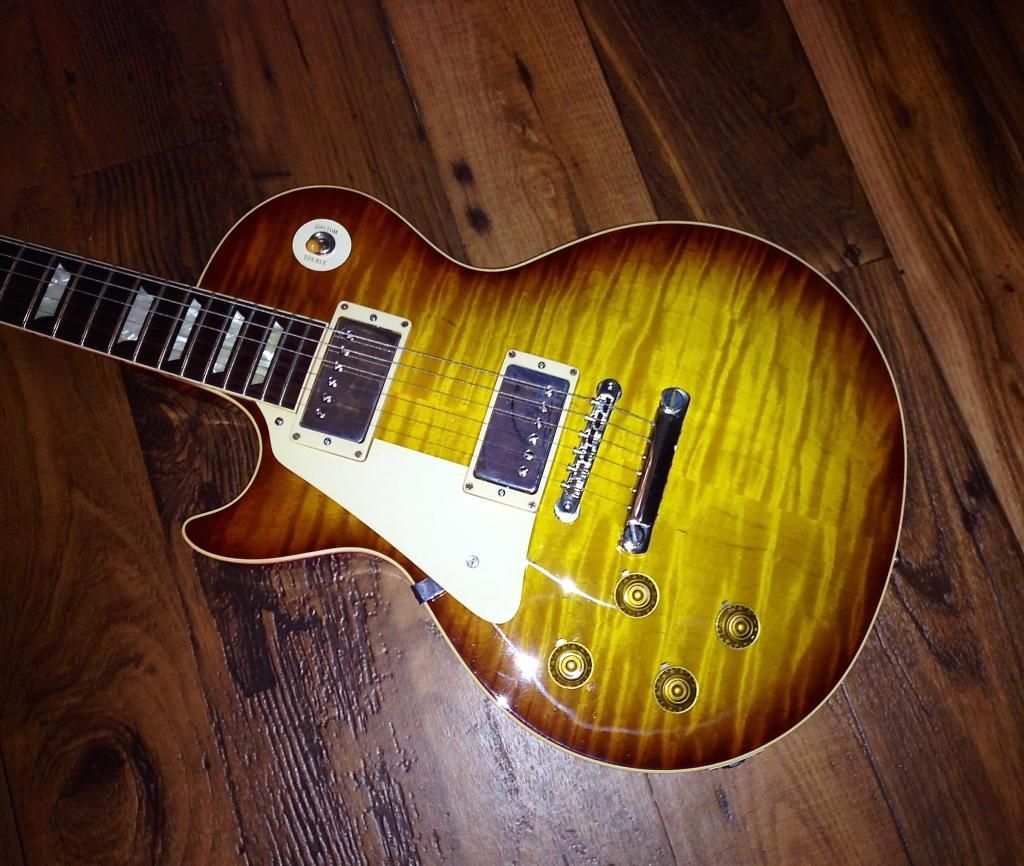 Here are a couple of threads that show the guitar looking a little different:

http://www.mylespaul.com/forums/historics-reissues/283241-2013-custom-shop-tribute-thread.html

http://www.mylespaul.com/forums/historics-reissues/280676-ngd-tasty-2013-r9-goodness.html

The board is parched in the dealer photo in the above thread so it looks really light, it's actually a nice milk chocolate color with some nice grain lines.

Anyway, please PM me for more info, or if you are interested.

I'll put a price (because I have to) of $5000.00 with all the mods, but it is negotiable depending on what parts you want, or if you just want it stock. The guitar is in excellent condition, and is a gloss model, there are a few very small dings here and there but they very hard to find and you have to look or them. The metal hardware shows some very slight discoloration from sweat, but is nowhere near VOS looking. Also, the binding on the neck (mainly) has some bleed from the red aniline back. I have all the paperwork, COA, original sales receipt, blah blah blah from Wildwood. It weighs 8.4 pounds. This is truly a great sounding guitar, you will not be disappointed in this tone monster... maybe when Lefty Elmo gets back from Phili he'll chime in, he's heard this baby sing!

I will note the only stock item I do not have it the Gibson harness... it was pretty crappy IMO, and I gave to a friend for a build. The guitar will come with RS Superpots for Volume, CTS 550K Pots for Tone, and RS Jensen PIO Caps... this truly is an upgrade from the stock stuff.