Joined

Dec 20, 2009
Messages

1,066
Reaction score

798
Here they are, originally rated as .015f, ±20%, 400v, but they test currently test at about .023μf and .0245μf, right in line with what an original stock Gibson bumblebee should be.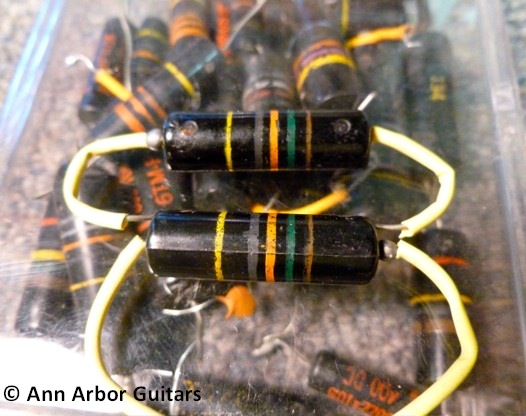 I'll give them away to whoever wants to come by and try them out, with one catch - you have to be able to demonstrate that you can hear a difference between these, and brand new 12¢ ceramics.
You bring your guitar with you, or I'm sure I can provide one. We disconnect one of your tone caps, and clip a switch box in its place. Then I install one Bee and three ceramics of matching value in random positions in the test box.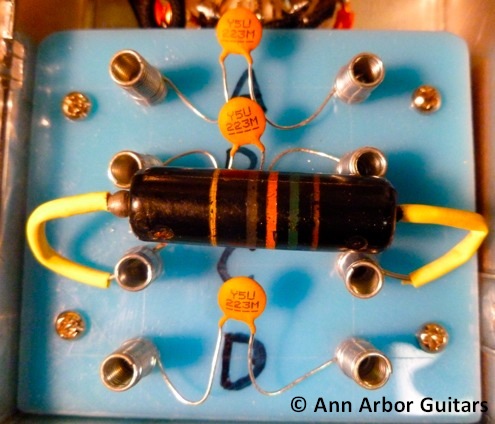 Then you get to switch between the caps in real time as you play, and all you have to do is identify which one is different from the other three. I'd like to do a total of 8 tests, each time randomly rearranging the caps. In four tests you can turn the tone up or down wherever you like in attempt to pick out a difference. Then in another four the tone pot will have to stay locked at 10, and I will replace the Bee with a solid wire, seeing if any difference can be detected between caps vs direct connection with the tone all the way up.
I'm still working on the statistics of getting them right by chance, but I think it's fair that if you can identify the odd one out in 6 of the 8 tests, then you can take the pair of caps home with you.
I'm not selling anything, just offering enticement to participate in a survey, and if you really can hear a difference then you get a free pair of PIO BB's. My apologies to those outside of the southeast Michigan area, but I do want to supervise the survey personally.
If anyone wants to give it a shot, let me know!