Joined

Nov 21, 2011
Messages

458
Reaction score

112
After browsing this section, I have seen a lot of aspiring guitarists asking how to go about improving their picking technique. This is my take on the subject. Please feel free to put your opinion in on this. Below is my take, and a simple exercise.
Holding a pick correctly!
Firstly, how you hold a pick isn't what you would naturally consider, if you haven't been taught this already. You need to start with this correct shape untill you get comfortable with it and your natural posture takes effect.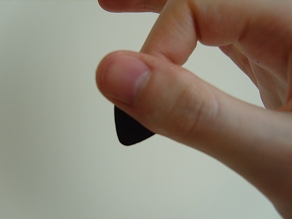 In this picture that google helped me with, you need to make a cross with your thumb and index finger. Hold your thumb horizontal and curle your index fingure so that the tip of it is perpendicular with your thumb (or vetical) so you make this cross shape. The "pad" of your thumb should be against the left hand side of the tip of your index finger (providing your right handed, opposite for us lefties!). If you look at your horizontal thumb head on, your index finger should poke down below your thumb and almost resemble a guitar pick itself.
As for holding the pick, you should have the tip following your index finger. Hold it so that the center of the pick is roughly in the middle of your thumb. Do not press against it, but merely secure it in place. It needs to be able to flick or flex a bit either way as you pick or strum!
For completely new guitarists.
If you are new to guitar (I mean very recently started, or are still even trying to get the hang of what I mentioned above, or just never held the pick like above...) then I propose this for initial practice.
Wield the pick as I said above and just fret a note. Somewhere in the middle of the neck is a good start, like the 5th or 7th fret, on one fat E string. Now, provided your sitting bolt upright strum/pick that one note over and over again. A lot of guitar playing comes from the wrist rather than the elbow. So just focus on mainly picking by moving your wrist vertically (in line with the guitar stings/strumming direction). Pick down, pick up, pick down, pick up, pick down, pick up. After you can clearly pick one note quite consistently, pick a new note and strum that till your a bit more relaxed. Up and down picks or strokes are vital to guitar playing.
Now, for those wanting a wonderful little exercise to practice a picking technique that will actually improve a lot of aspects of playing, well here it is!
A Major Scale!
Learn the basic major scale.
This is for a bass guitar, but its the best I could find, and its the same either way. Above is a scale, up and down, repeated 4 times. Starting on the lowest (fatest) E string you fret and play 3 then 5. One the A string above (or down technically!) it is 2, then 3, then 5. Move up one more string to the D string and play 2, then 4, then 5. So, 3,5 2,3,5, 2,4,5. Then reverse and work your way backwards back down. Notice the 3rd fret that you start on and the 5th fret you finish on? They are the same note, just an octave difference. Hence one octave scale, from G all the way to G, playing every note within the G major scale!
The Very first exercise!
First exercise! Fingering is very important. I want you to practice this. Your index finger only presses notes on the second fret. Your middle finger presses every note on the 3rd fret. Your ring finger is for the forth and that poor, weak little pinky is gonna get a nice dose of exercise with the 5th fret.
So if you imagine your index finger is 1, middle finger is 2, ring finger is 3 and pinky is 4. Suddenly this scale turns from 3,5/2,3,5/2,4,5 into 2,4/1,2,4/1,3,4.
Now going back to the picking hand I want you to pick each string and note of that scale in order, up then down. Once you memorise the scale and know it, switch to that up/down picking. So U/D, U/D/U, D/U/D (then backwards!). This is very tricky to start with but total a few hours at this and it will be verging on natural!
For those that can do the above!

If you can roll up and down the scale competently and have started making a shot at doing it somewhat to a slow beat, then you can start building some strength!
If you have picked up on the "pattern" of 2,4/1,2,4/1,3,4 then you can move this pattern anywhere along the E string. So for example 7,9/6,7,9/6,8,9 is a B major scale. This also works starting anywhere on the A string too! We're avoiding the B string for now as that is a bit different and throws a tantrum in the mix
So I now want you to start with the root note on the 3rd fret on the low E string (Root note being the first note of the scale, and the end note!). Once you have finished the scale, slide up one fret instantly whilst keeping somewhat of a rythm 1...2...3...4... etc or !...!...!...!...!...!...!...!.......(luz i missed)..!...!... etc. Once that scale is complete instantly start another fret higher up (so start at the 5th fret now!). Continue all the way up till you've rolled the twelth fret E scale. Cramping at the wrist yet? Well you aint done! Jump a string higher to the A string. Start at fret 12 and repeat the previous process, but down the neck back to the third fret. Eventually you will be able to do this will without missing a pulse or cramping the wrist!
But thats only finger work... what next?

Right. I want you to start on a comfortable scale. Now roll up and down whilst sticking to a beat. When you reach the original note, do the same again, but two notes per beat, whilst alternate picking. So up/down, up/down etc. This will double your playing/picking speed whilst remaining "economical" in your technique. Same strum, twice the notes.
Got that? Up and down the neck fella!
Got that? Well, perhaps you can guess? Triple Pick time!
Got that? Can you guess what the next one is? Wrong it isn't sleep. Its 4 picks per note.
Timing time!

As you play, count your timing it does help, really. So for one note a beat (in 4/4 timing thats quarter notes) its ONE, TWO, THREE, FOUR, ONE, TWO, THREE, FOUR, etc.
For 2 notes per beat (an 8th note!) its ONE-and-TWO-and-THREE-and-FOUR-and, etc (shout the ands!)
For 3 notes per bear (a 12th note, not so common in many styles but good for rythm practice!) its ONE-e-and-TWO-e-and-THREE-e-and-FOUR-e-and.
And for 4 notes (16ths, as far as one really needs to go unless powermetal is the dream) then its ONE-e-and-a-TWO-e-and-a-THREE-e-and-a-FOUR-e-and-a, etc.
WOooOOoo! Learning!

Now I've taught you a fairly basic way to practice off one type of scale, can you imagine what I'm going to say next?
Wrong, its more scales!
Well, this is where your free to wonder off back to learning sweet child's intro or stairway to heaven, but heres a tip.
For every octave scale you learn, learn the fingering. Learn it by practicing exercises I taught you here, just with a new scale.
Another thing to do, could be variations on the major scale (more complex fingering, but same notes essentially). Or learn a full 2 or 3 octive scale and practice picking that. Or try arpeggio's which are scales that skip notes, basically, without going into theory, and are often used in the mad sweeping techniques. etc.
You'll find this should be a nice base for developing your skills with.
So what does this really teach me.

That you'll blindly follow advice from someone off the internet? No, I'm not that mean. I'm teaching you repetition. A powerful tool that can drill anything into anyones mind. Repetition, nothing more.
Have fun!
P.S. Let me know if you find any of this helpful. Keep me updated as to whether you start to notice any improvements!