Hello...
I am guessing I can be PM'ed but cannot send them as I am new...
Plenty of references on TGP with the same user name, EBAY as "Rumor156"
Ok...This is what I have for sale...
White guard 2007-2008 MIA Fender Highway One Texas Tele loaded with custom-wound Motor City Telecaster p'ups (original Fender p'ups included). Full-feeling neck, plays and sounds awesome. Frets are in great shape, recent pre-set-up...All the reviews you will find on the net seem to agree...This guitar is a winner!
One pretty decent ding where arm contour would be (shown), nothing else of note on the guitar to mention...
I just bought a VA Brent Mason so I SHOULD sell it but I am honestly a little on the fence...I really would rather keep it! It is a GREAT guitar for not a ton of cash...Whoever gets this will like it a lot.
Comes with a really nice TKL acoustic guitar gig bag (I know, lol) ...
Shipped/Paypaled $650.00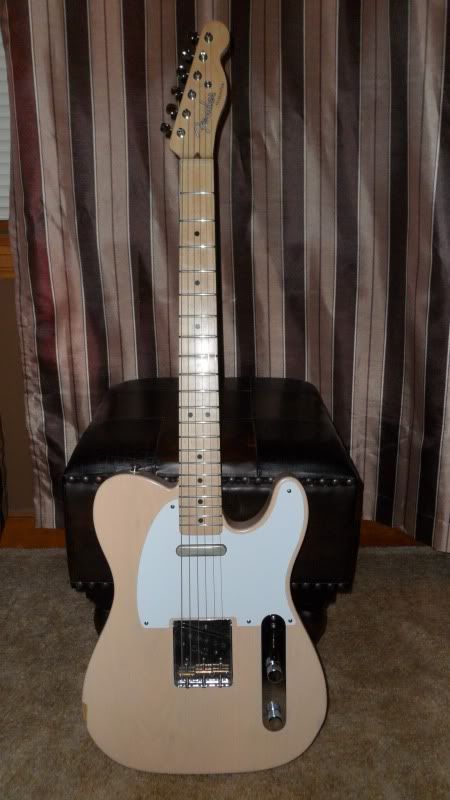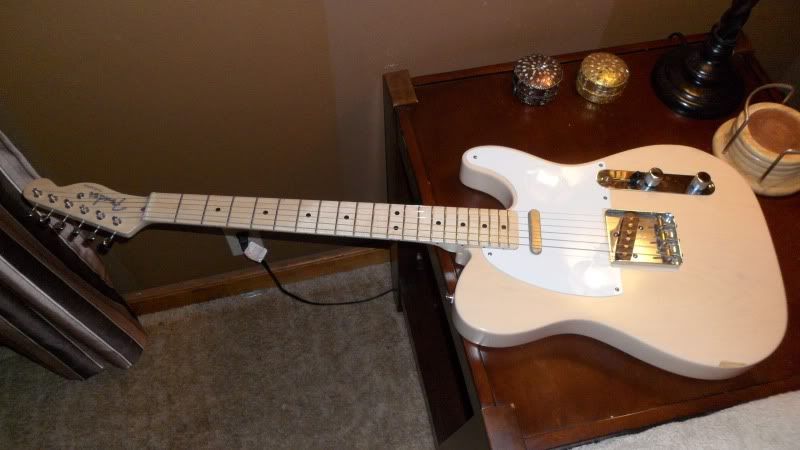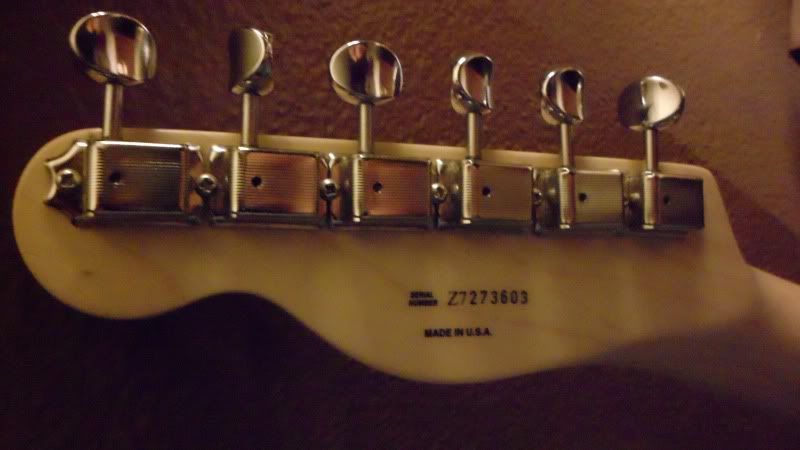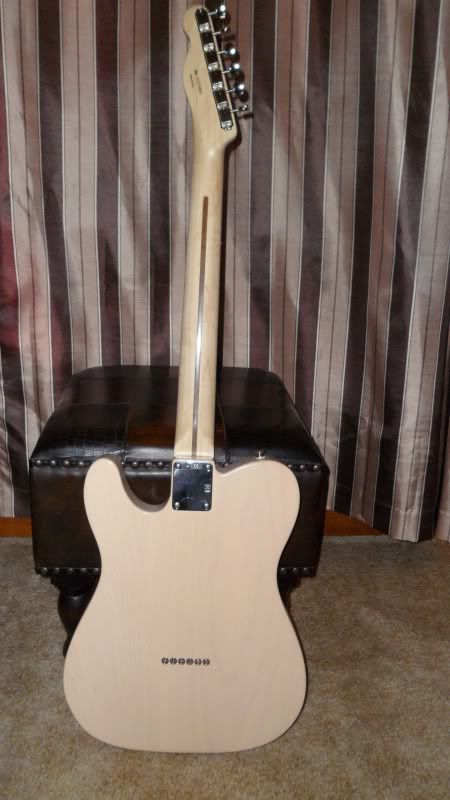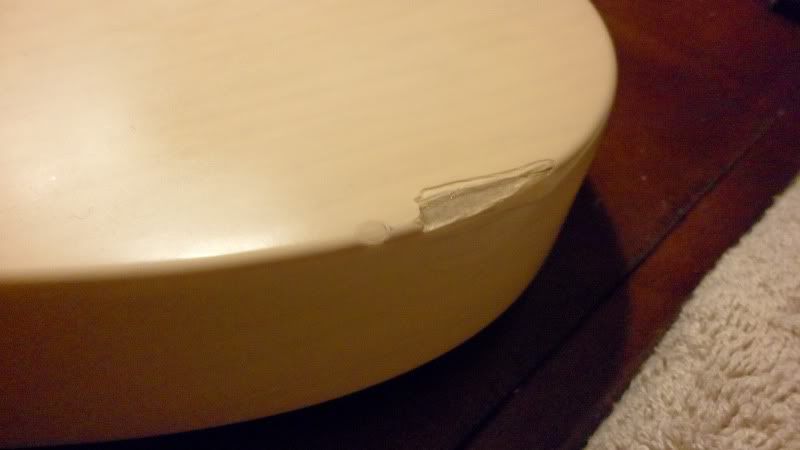 Article found on TDPRI below:
(Page 2 of this thread
fender TEXAS highway one tele owner's lounge. - Telecaster Guitar Forum
)
BODY & NECK
Fender's Texas Telecaster® hails from its increasingly popular Highway One™ Series. These guitars are built in America, and stand as the entry-level USA instruments above the Classic Series guitars from Mexico. The principle spec difference between Highway One series and the rest of the American guitars is the thin matt lacquer finish (which Fender refers to as 'low-gloss'). Along with the included gigbag—instead of a hard case—these are two main areas in which Fender is able to save money, and therefore keep the prices down.
Underneath the matt finish, the familiar slab body comprises three pieces of ash, the best choice for vintage-style Tele guitars.
The Texas Telecaster guitar's neck is what will attract a lot of guitarists. From afar, it's any other bolt-on maple neck, but look closer and you'll find a number of practical playability benefits. Firstly, the single-piece neck has a 12-inch radius fingerboard, which is flatter than either American or American Vintage specs. Coupled with the medium jumbo frets, it means the Texas Telecaster feels more modern in your left hand, enabling a lower action and far wider string bends.
In terms of profile, it's an inviting modern C shape, veering to a hint of V behind the first few frets. Finished in satin polyurethane, it suffers none of the sticky tendencies of American Vintage nitrocellulose when new, and is therefore instantly far more comfortable to play. The nut is cut perfectly, meaning you can go for a low, buzz-free action if you want it. Truss rod tweaks are easy, because the nut is hidden discreetly at the headstock end, rather than half-underneath the pickguard at the heel as it is on vintage-style Tele® guitars. Finishing up the Texas Telecaster is the seminal T peghead, complete with a vintage-style spaghetti logo and simple 'Telecaster' decal: no patent numbers, no 'Made In USA' tags, or indeed anything else to spoil the aesthetics of this understated beauty.
MATT BY NAME… WHY HAVE COTTON, WHEN YOU CAN HAVE… SATIN?
One way in which Fender® is able to keep the cost down with this guitar is the finish. Instead of the usual, glossy polyurethane or nitro-cellulose finish, the Highway One™ Texas Telecaster comes with a much thinner satin lacquer coat to the body. Visually, it's more matt in appearance, which approximates the patina of an older guitar, and tonally it's good news because the finish is thinner, then enabling the body to resonate more, theoretically at least. Some people just won't see the attraction, but there are those of use who really don't like shiny, new guitars, especially those with modern lacquers that will stay that way forever. So here's one we can drag on the floor and make look 25 years old than bit quicker!
HARDWARE & PARTS
Simplicity is the order of the day, with vintage-style Telecaster® guitars, and here you'll find very little deviation from the 1950s complement of components. The bottom half of Fender's 'ashtray' bridge is home to both saddles and the bridge pickup—two essential factors in the Telecaster guitar's tone. The saddles are a trio of brass beauties—an essential requirement for lovers of vintage Tele guitars. The pickups are dubbed 'Hot Vintage' by Fender, which we can take to be alnico V magnet single coils with some extra winds compared with standard spec, to increase output and make 'em that bit fatter in terms of a lower resonant peak: just what a lot of us want from a modern Telecaster guitar. Controlling them is an ostensibly traditional set of controls, but post-2005 guitars are fitted with Fender's 'Greasebucket' tone circuit.
A sextet of vintage-style slot-head machineheads complete the hardware picture in a suitably simple yet effective manner, further aided by a single, round string retainer for the top two strings.
UPGRADED - GREASEBUCKET CIRCUIT NOW AVAILABLE
In 2005, Fender® changed the spec of the Highway One™ series ever so slightly in the electronics department…
The latest version of the Highway One Texas Telecaster features some additional circuitry, namely the 'Greasebucket' tone circuit, that you can also find in the new Custom Shop Stratocaster Pro model, among others. This replaces the Tele-standard wiring of a single polyester capacitor for the tone circuit, with two ceramic disk capacitors (.100uf and .02uf) with a 1/4-watt metal film resistor. The effect is that when rolled down, the tone pot reduces the high frequencies, but does not add bass.
SOUNDS
Fender® isn't kidding with the 'Hot Vintage' pickup tag. The Highway One™ Texas Telecaster® puts out an extremely healthy kick, compared with the more standard Strat® guitars and Tele guitars we had to hand during this review. In fact, cranked to maximum, the bridge pickup has a hint of P90 about it, particularly with the tone control knocked off just a touch. It drives a relatively clean tone into overdrive where a regular single coil would leave it unsullied, enabling you to growl that bit harder with your favourite valve amp.
Likewise, the neck pickup has extra beef too, which makes for a great jazz tone if the mood takes you, but of more all-round appeal is its bigger, blooming body for any kind of general rock and blues playing. The whole thing is more articulate, with seemingly more fundamental punch in the note, though not to the extent of a humbucker's direct mid kick.
The biggest surprise, however, is that the extra output isn't traded for too much sweetness or dynamic range. Used with tons of overdrive and the tone pot rolled off a quarter, it's good pseudo-humbucker territory, but then cleaned up again and the tone pot wide open, it's as good a classic chicken-pickin' twang monster as you're likely to find. We've said it before, but we'll say it again just to hammer the point home: if you think Telecaster® guitars 'thin' sounding, or just 'country' guitars, plug in one of these and realise why it's still the best all-round rock'n'roll plank there is.
CONCLUSION
During its time at Guitar Buyer, we've come to love this guitar. Worries about the weight soon pass into the ether when you feel how it plays, and hear how it sounds. £699 for a pukka American Tele® guitar—that's a good deal.
For those of us unable to detach from the essential vintage aesthetics and features, it's the Tele guitar we've been waiting for: the best blend yet of vintage looks and tone, with modern playability and a little extra power to boot.