Joined

Aug 14, 2010
Messages

1,860
Reaction score

2,399
Johnny Hiland and ECP are excited to announce the official release of his new signature line of pickups which are available for sale through Electric City Pickups, and Martin Six String Customs.
Six Shooter Singles
(For Silhouette, and Strat)
When Nashville Super Picker and Shrapnel recording artist Johnny Hiland said to me one day that he really missed the tone of a true Tele bridge pickup and true tone of an old school Strat neck pickup in his EBMM Silhouette, with dual blade pickups , I said to him he needed real single coil pickups to accomplish this. He also said that he likes a hot bridge pickup to rock out with, but it still had to be able to twang and be able to chicken pick . I set forth to create a set of pickups with a regular Tele sized bridge pickup, and regular sized Strat pickups for the middle and neck positions. This set proved to be a hit with Johnny and provided the tone he was chasing after, but the Tele sized bridge pickup proved to be too large, and interfered with his picking style. Although he loved the tone of the Tele bridge he asked me if I could make it in a Strat pickup size and after some development I cloned the tone of that Tele bridge pickup in a Strat sized package, which includes a steel baseplate. What was born was the Six Shooter Singles for Silhouettes and for regular Strat style guitars, as this set proved to also sound great in a Strat style guitar.
Specs: Neck- A3 staggered magnets- 42 gauge HF wire, Middle- A3 staggered magnets- 42 gauge HF wire
Bridge- A3 magnets- 43 gauge PE wire- steel baseplate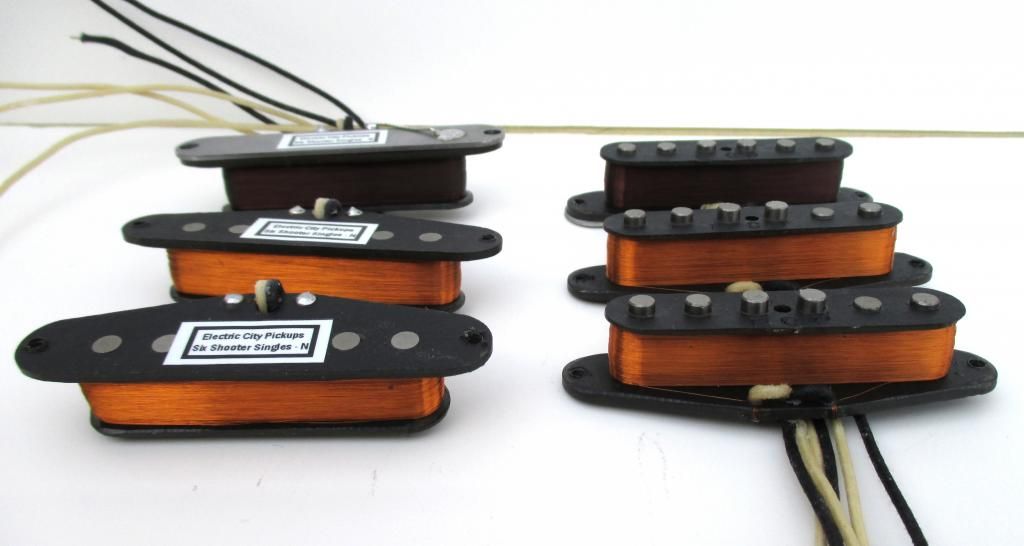 12 Gauge Pump
(Tele) /
12 Gauge Semi
( Nashville Tele)
After the development of the Six Shooter Singles Johnny and I set out to make a pickup set for Tele style guitars. Although he plays EBMM Silhouettes he still loves his Tele's. We already developed the bridge pickup at my first attempt to put a full size Tele bridge pickup in his Silhouette, and we already had the Strat middle pickup from the same set, for the Nashville Tele, but needed to get the neck pickup just right. So, I made a hybrid staggered neck pickup that is a bit overwound and has longer magnets compared to standard Tele neck pickups, to keep up in power with the powerful 12 Gauge bridge pickup, and also compliment the middle pickup in the 12 Gauge Semi set. What was born was the 12 Gauge Tele sets. The 12 Gauge Pump set is your standard 2 pickup tele set, and the 12 Gauge Semi, for Nashville Tele.
Specs:
Neck- A3 staggered magnets- 43 Gauge PE wire- Chrome, or Bare Cover
Middle-A3 staggered magnets- 42 Gauge HF wire ( 12 Gauge Semi only)
Bridge- A3 magnets- 43 Gauge PE wire- copper plated steel baseplate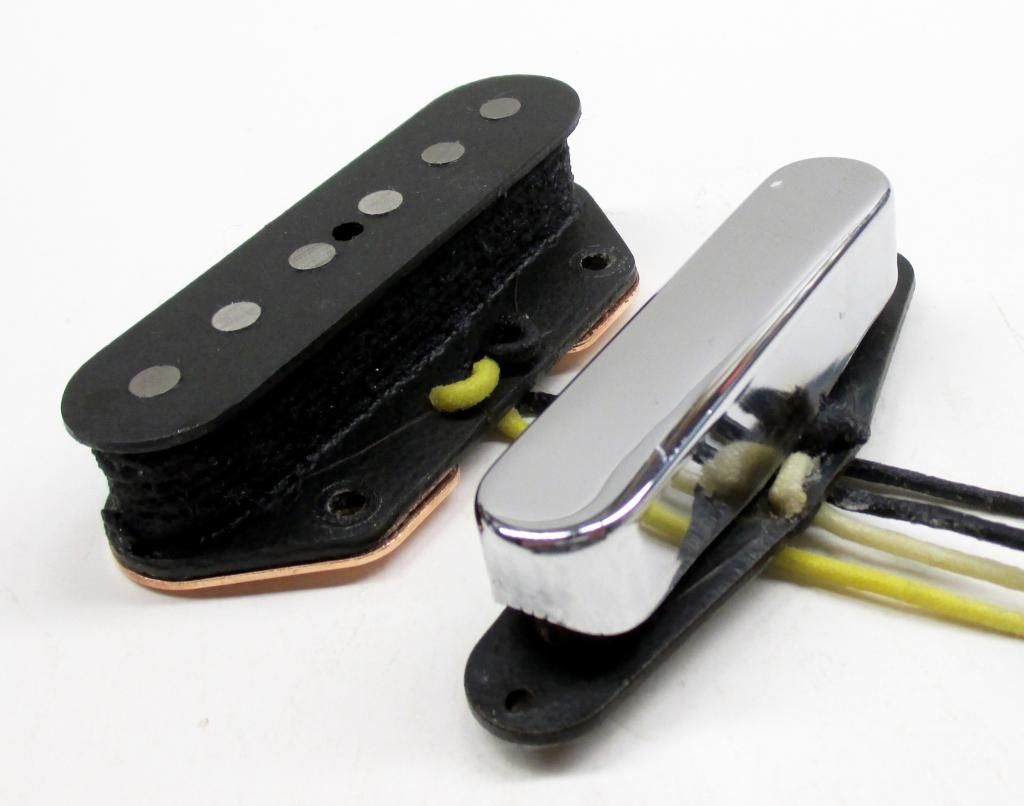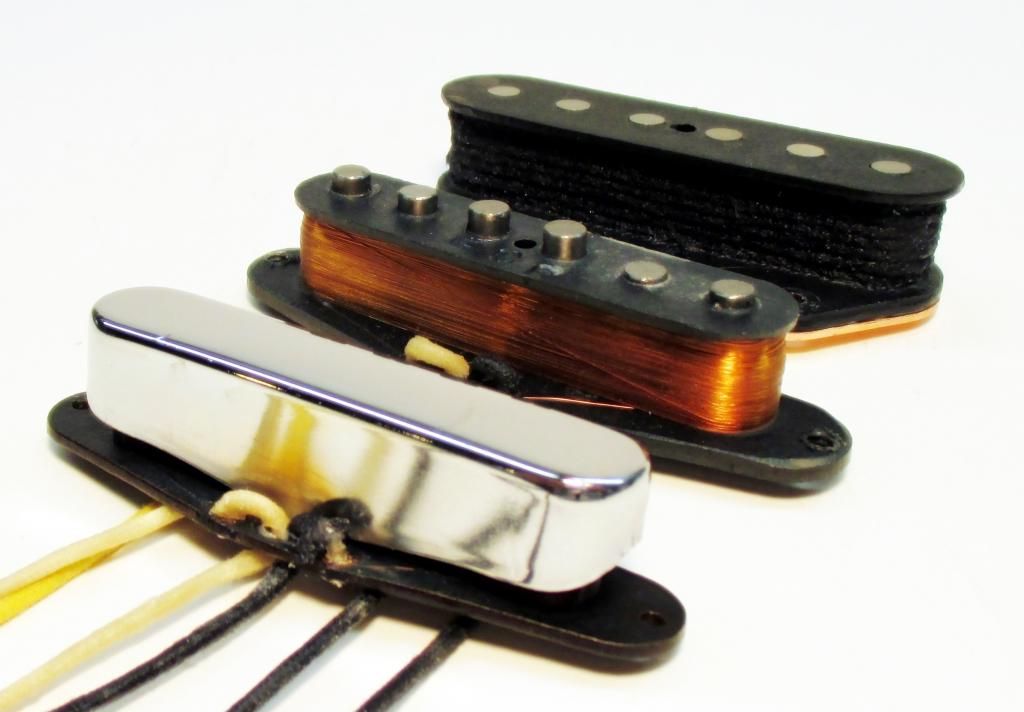 Double Barrel Buckers
This set was designed to clean up well and when the bridge pickup volume is rolled down it can get some great twang and some great chicken picking tones and this is why Johnny loves this set in a Silhouette. The neck pickup can go from rock to jazz with just a twist of the volume and tone knobs. All Double Barrel Buckers come with 4 conductor wire, for splitting coils, or phase reversal, and short leg baseplates to accommodate just about any guitar.
Specs: Neck- 42 gauge PE wire- A4 magnet
Bridge- 42 gauge PE wire- A4 magnet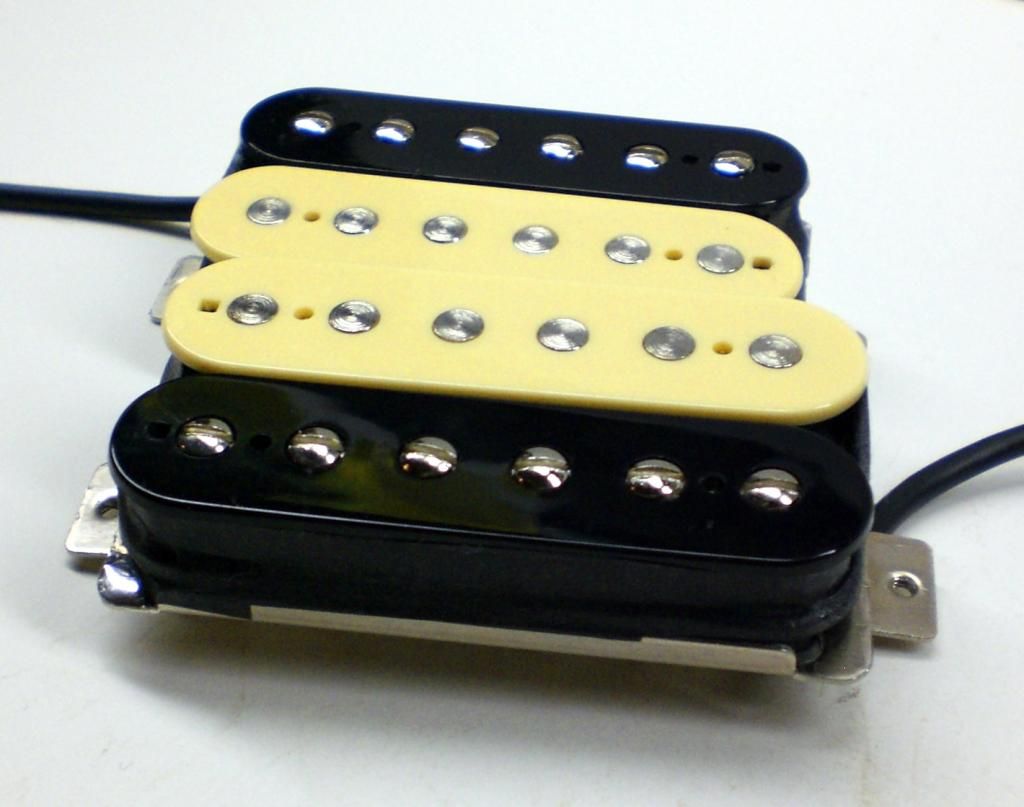 Please visit electriccitypickups.com, or martinsixstringcustoms.com for more info and pricing.