Joined

Dec 11, 2008
Messages

2,013
Reaction score

1,116
The modern Firebird pickup is something of an anomaly to me, for as much as Gibson prices these cool guitars, it would seem that they would listen more to the players that would buy them than whoever it is at Gibson that dictates how they should build them. Not the case.
In the beginning the raw and biting tone of the original Firebirds put them on the map with a unique sense of identity as well as a unique tone. Now nearly half a century after their introduction into the music world, Gibson has made some downright eye popping and accurate reissues of these legendary guitars, but why didn't they continue to refine and re-create the pickups that powered the sound of players like Johnny Winter, Dave Mason, Stephen Stills, Eric Clapton and a host of others?
Instead, they choose to use the same minimal bobbin form, and wind it with thinner wire to arrive at some of the hottest DC resistance levels ever measured in passive pickups. The tone of these modern pickups is harsh and very trebly, turning down the volume knob doesn't help them much at all, and swapping the ceramic magnets for vintage alnico doesn't really make them sound like the old ones.
Seymour Duncan and company are very keen to the input of users, several really good pickup designs were taken into the production floor straight off the pages of the users forum. Way to go Seymour! Maybe the powers that be at Gibson ought to take a hint?
Anyway, I'm not ranting, just couldn't live with the stock Firebird pickups and set out to do a little home brew research to see what could be done about it. Turns out there is quite a few really cool things you can do with one that sound really good. Not trying to get into the box that the boutique/vintage builders like Jason Lollar, Curtis Novak, Chris Klein, Skatterbrane, and others are already in, they make some really fine firebird pickups and mini humbuckers on their own. I wanted to do something a little different, a little more outside the box than what's typically available right now.
Winding the stock bobbins with plain enamel wire is a huge improvement and paired with alnico magnets puts the lowly mini humbucker and firebird pickup squarely in the tone zone, it makes a WORLD of difference. Hands down this is the single biggest improvement of all.
Using the mismatched or asymmetrical coil winds really widens the tone palette of these pickups by adding a multi-dimensional quality to the basic toneprint, it allows for a vintage Gibson tone overall but with some very nice highs and harmonic overtones are somewhat on the wow scale compared to symmetrical winds, even with vintage style wire. About a month ago I made a hybrid based on stock size firebird bobbins. This was an idea I carried from the Seymour Duncan Hybrid humbucker, and implemented it in a firebird format. It worked really good, I had a lot of fun building and playing this pickup. One coil being wound with 42ga plain enamel to 3.6k, the other with 43ga plain enamel to 5.1k gave a total DC resistance of 8.77k, with the tone overall somewhat comparable to a vintage Pat # sticker humbucker, but with a cool cutting, edgy bite on the top end. This was using stock firebird bobbins, taken from a modern Gibson pickup. The limiting factor with these, is that you can only get a certain amount of wire on them, by the time they are full they still leave me wanting a little more out of them.
Enter yesterday's project pickup build. How much can you cram into a stock Gibby firebird cover? Can you get enough wire in it to really make it kick major butt? Yep, it can be done, but not by using stock bobbins and certainly not by using thinner wire to make up for the limited space on the stock bobbin.
This project uses some blade style bobbins from Mojotone, carefully machined down small enough to fit inside the cover. These bobbins are intended to take a steel blade in the slot, with a magnet underneath the pair of coils, but with a little tweaking they will gladly accept a bar magnet in the center, they are basically a firebird bobbin on steroids!
Here is L-R a pair of firebird hi-output coils with ceramic magnets as removed from the modern firebird pickup, a Mojotone mini hum/firebird bobbin, a slug side PAF style bobbin, and the Mojotone blade bobbin.
The height of these Mojotone bobbins is the key element in allowing more wire to be used, even cut down they allow for enough 42ga wire to reach nearly 5k. They easily dwarf the stock firebird bobbin..
The slot in the bobbin allows for nearly 3/16" longer magnets.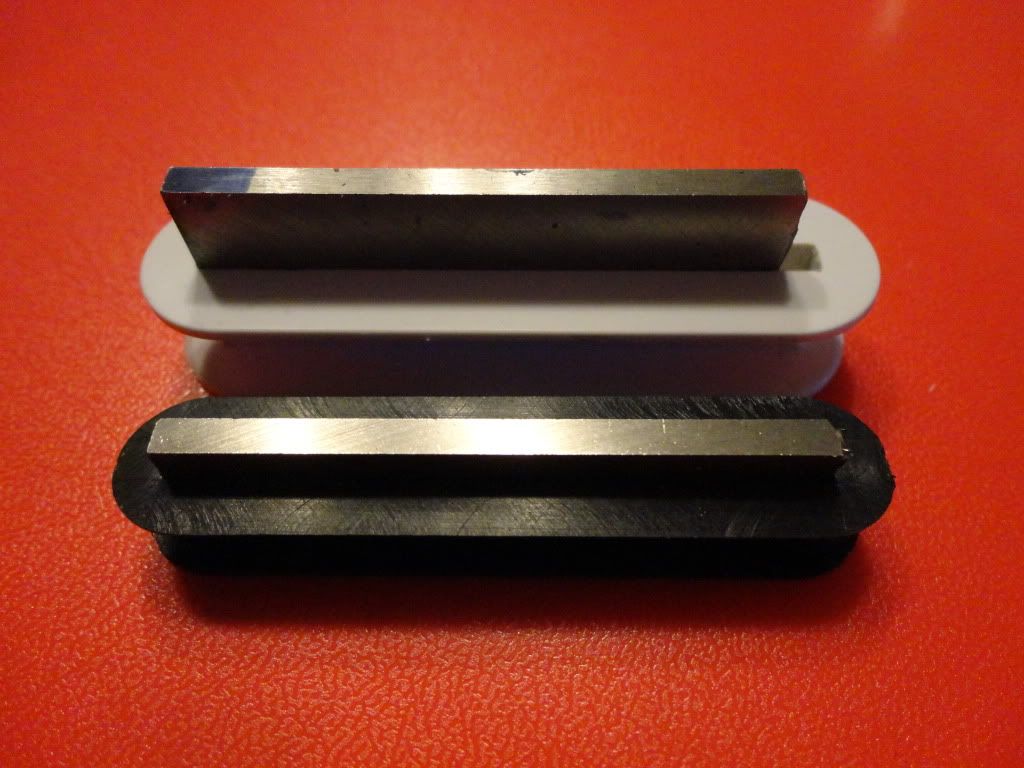 Stock firebird bobbins laid in the cover. Look at all the unused space!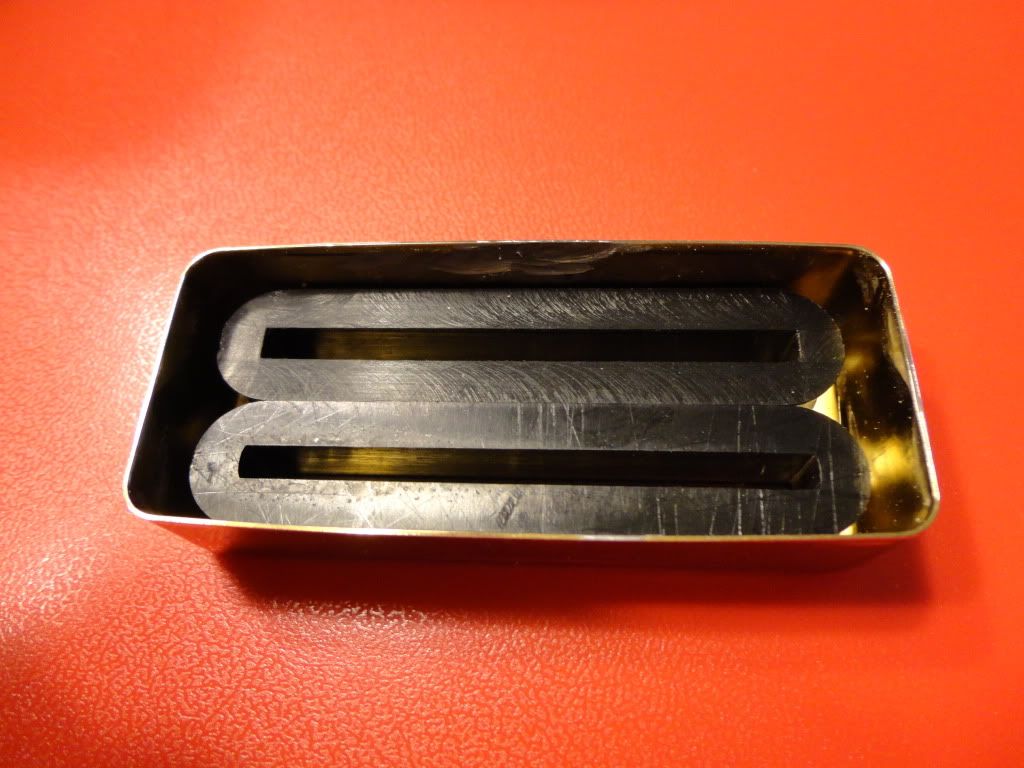 Modified Mojotone bobbins laid in the cover.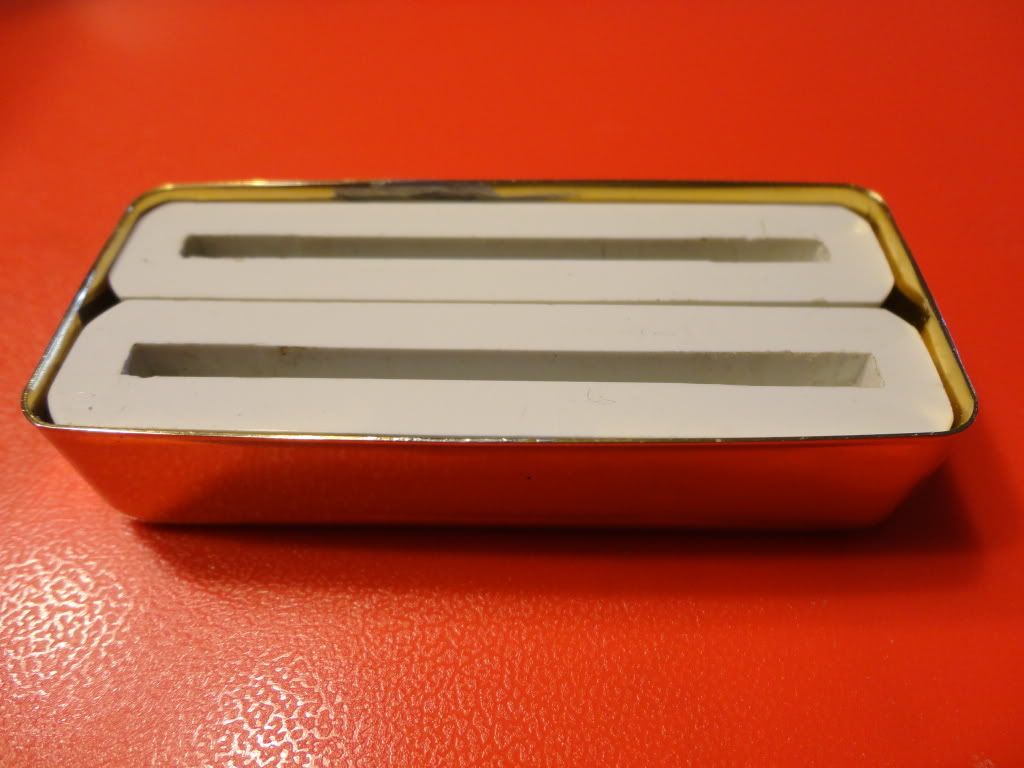 Finished coils, top one is wound to 4.77k with 42ga plain enamel, bottom is wound to 6.4k with 43ga plain enamel. Total DCR for the pair is 10.88k.
Coils fitted into the cover, I had to later move the series connection as there wasn't enough room under the reflector plate for even a lead wire.
Reflector plate fitted to the magnets.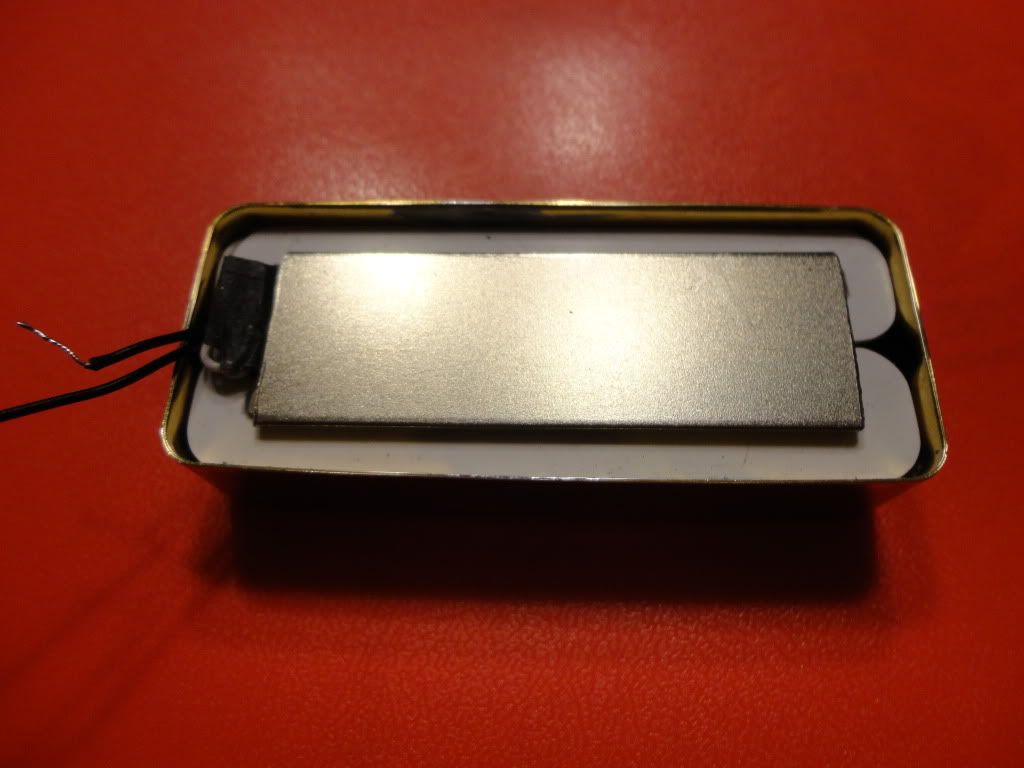 Bottom of the finished and assembled pickup. There was no room for attaching the pigtail internally, as the bobbins took up nearly every bit of space available, so it had to be connected externally just like the P-90 pickups were done.
Installed in the bridge position.
This pickup kicks some serious butt! I was looking for two things in particular, one is a nice rounded even P-90ish tone when the volume is rolled off to about 8, and I wanted some of that legendary Firebird treble bite at full volume. It nails both requirements very nicely, it doesn't sound thin at all, it shares some tonal qualities with the P-90, the Firebird, and also the PAF pickups, vintage and full sounding when playing chords or single wound string notes, biting and stinging when you roll the volume full on and lay into some solos.
I nicknamed this pickup the "dirtybird" not because it sounds dirty or distorted, but cause of the dirty tricks hiding under the cover..
Lot of work having to modify bobbins but it was well worth the effort in the end. I started a thread a while back about just what was really in a modern firebird pickup, this thread follows that and could have been titled "Just what COULD be in a modern firebird pickup."
Just felt like sharing, hope ya like it!