Joined

Aug 20, 2012
Messages

1,109
Reaction score

653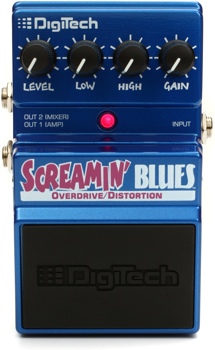 I'm obviously way late to this game, but I came across an awesome mom-and-pop record store in this area, and they had a great assortment of used guitars and pedals. Among those pedals were a lot of DigiTech's, including the Bad Monkey (which I have), and other modeling pedals like the Tone Driver and Clapton Crossroads. But they also had a Screamin' Blues, which I had mostly overlooked.
My understanding (largely from the excellent technical discussions on TDPRI) is that the analog DigiTech stuff from the 2000's lines up like this:
Hot Head: DS-1 circuitry
Bad Monkey: TS-9 circuitry
Screamin' Blues: BD-2 Blues Driver circuitry
Basically, the Screamin' Blues is a Blues Driver, but with an adjustable bass control (and cheaper). I had the Blues Driver, briefly, but flipped it because I thought it got a bit harsh. At the time, however, I had a 15 watt amp, so I'm rethinking a lot of those pedals I "discarded". The Screamin' Blues demos sounded great, and it seems to be pretty well received across the board.
Can anyone vouch for the Screamin' Blues (or trash it if you didn't like it?). I understand the appeal behind the Bad Monkey, but find it to be too muddy compared to my other TS-like pedals. Blues playing is pretty integral to what I like to play (even when I play rock, it's still kinda blues), so I'm thinking this could be a good be a good fit in my arsenal (and much more versatile as a stacking pedal, too).