Joined

Jul 19, 2009
Messages

5,261
Reaction score

4,494
Recently I have been working in a predominately analog recording studio-- in my time there I also recorded a song completely on tape, which has been a long standing dream of mine.
The tape recorder is an Otari MTR 90 mk II 2" 24 track machine. It's a relatively modern machine (this one is from 1988) with a very nice tape path and a lot of locate settings (think DAW verse/chorus/bridge tags)that make operating it a joy.
We used brand new ATR high output tape, recorded at 15 inches per second with a +6 IEC EQ curve setting. This allows a pre-emphasis on the high end, and setting 0 at +6 pushes the noise floor down, done properly allows to record without the use of Noise Reduction. Also 15 ips allows for 33 minutes of tape, compared to 30 which burns through a whole reel in 16.
Drum tracking was very different from my experience in digital. In lieu of a click track, I played the tune while the session drummer heard me through the control room and played along. I sent him a rough demo a few weeks before, but even so we went over the arrangement in detail. We did two takes, no edits-- take one was the keeper.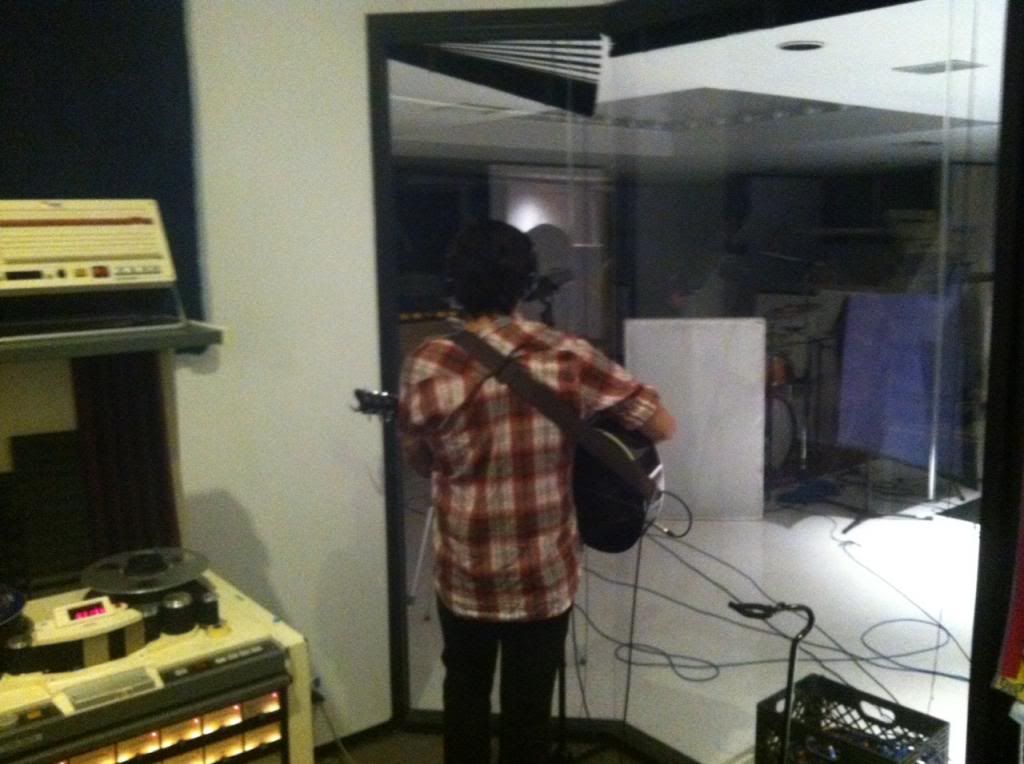 Being a big fan of the 70's 'dead' drum sound the drummer kindly dampened his kit. He put gaffer's tape on the heads of the snare and toms, a few very small hand towels on the toms, and sheets in the kick. The room is very ambient a la Bonham so we put some acoustic panels behind him, and set two mike stands in front of the kit and draped a blanket across it.
The bass was recorded one night after a session for country band, the engineer asked the bassist if he'd lay down a track for me. He did DI into the console.
I recorded all the rhythm guitars. Two electric, one acoustic, and one Nashville acoustic guitar. Though many of you probably know, for those who don't Nashville tuned guitars are strung up with very light strings and tuned up to an octave above E standard. The chord progression lent it's self to a lot of mud so i thought it would be a good idea to brighten it it up, as well as add a '12 string' like sound that could be mixed to taste. The first electric and acoustic takes i may have punched over a mistake maybe 2 to 4 times. The second electric and Nashville guitars were done in one take-- full passes. We also recorded a electric passage during parts of the verse and bridge where i played through a vibrator pedal, but this ended up very low in the mix.
The electric guitar was a Les Paul ran through a small orange amp. The electric guitar was initially close miked but it was too aggressive for the song so we swapped the dynamic mic for a tube and set it about 18 inches away from the amp which gave it a creamier sound.
I'm a newbie at signing so i bought a air tight sealed jug of fancy beer from a local brewery and brought it in for the vocal sessions. We recorded the song section by section, doubling the b parts of the verse and the chorus. The room is a bit ambient for vocal tracking but i wasn't comfortable singing else where, so much like the drum session, a pair of mike stands with a blanket was propped behind me to absorb any reflections. I sang very soft, and the blanket worked so the track was dead enough to treat in the mix. In lieu of reverb we smashed it through an 1176 in the mix, this gave it some balls and clarity.
A friend played lead guitar on the song, he used a Stratocaster and a small Fender combo amp-- lots of noise came off it, but we were able to finagle it to work. It was his first ever time in a recording studio, let alone tracking directly to tape, but he did a pretty good job. We didn't use too many of his licks though, not for lack of quality, but to suit the song better.
Same day we recorded the tenor sax solo, the session player was a woman who had played in the USC orchestra and is now, i believe a exec for Apple, so she charged a very reasonable rate. She nailed the solo twice in 20 minutes, which is clearly why she charges a 2 hour minimum

The singer of the country band i mentioned early kindly recorded harmonies for me, as did the engineer. Not much to be said about this part as they nailed it-- funny though we planned the tracking session on a day where all three of us came down with a cold, so it got postponed for a week later.
We mixed to 1/4" tape. The console is not automated so this was like a performance too. The engineer would hit play on the 24 track, i'd immediately hit play on the 1/4 deck and he'd be sliding faders in and out in real time. We spent all night mixing it, came out with practically a full reel of 1/4, the 5th mix was used for the master.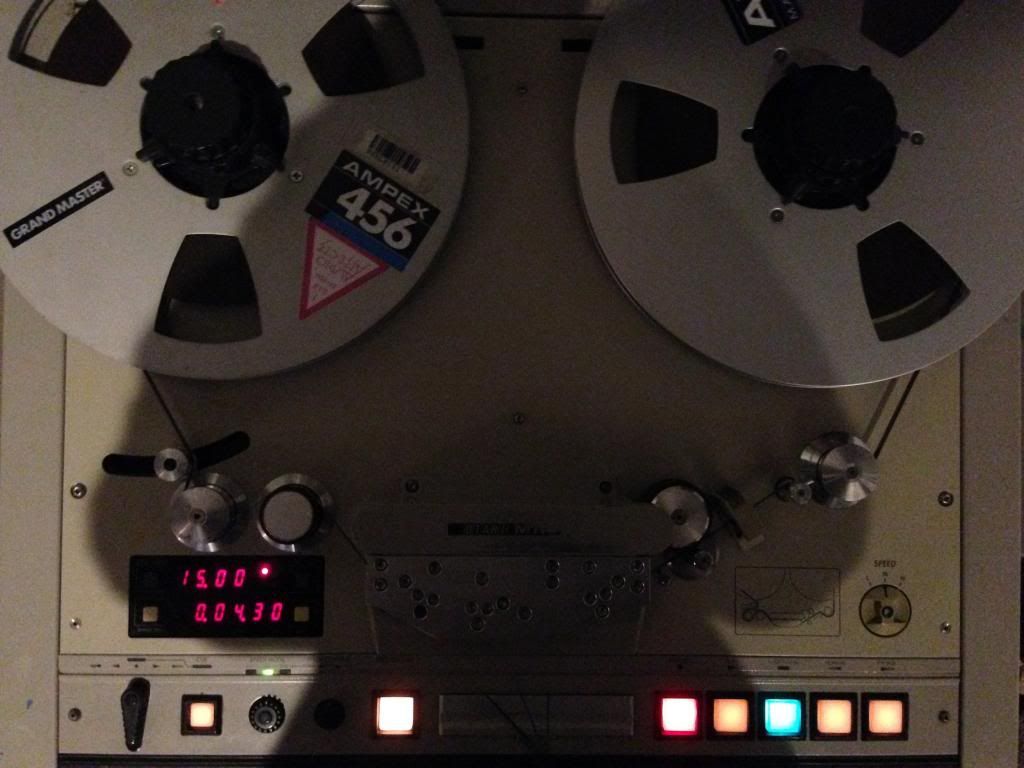 I booked a mastering session with Bernie Grundman since he is local, and mastered one of my favorite album Steely Dan's "Aja". Me and the engineer brought the 1/4" tape in and i waited nervously in the waiting room. He greeted us and showed us around, including the lathe he has that he still master's vinyl directly to.
The engineer talked shop with him, and he aligned his Studer mastering deck to the tones we printed to the reel, and went to work. He said he preferred 1/4 inch tape to 1/2 inch, thought that was a happy coincidence!
A few EQ adjustments and he transferred (and peak limited-- yes i'm guilty of a loud master, after all my talk

) it into the computer. He was very kind and autographed my copy of Aja.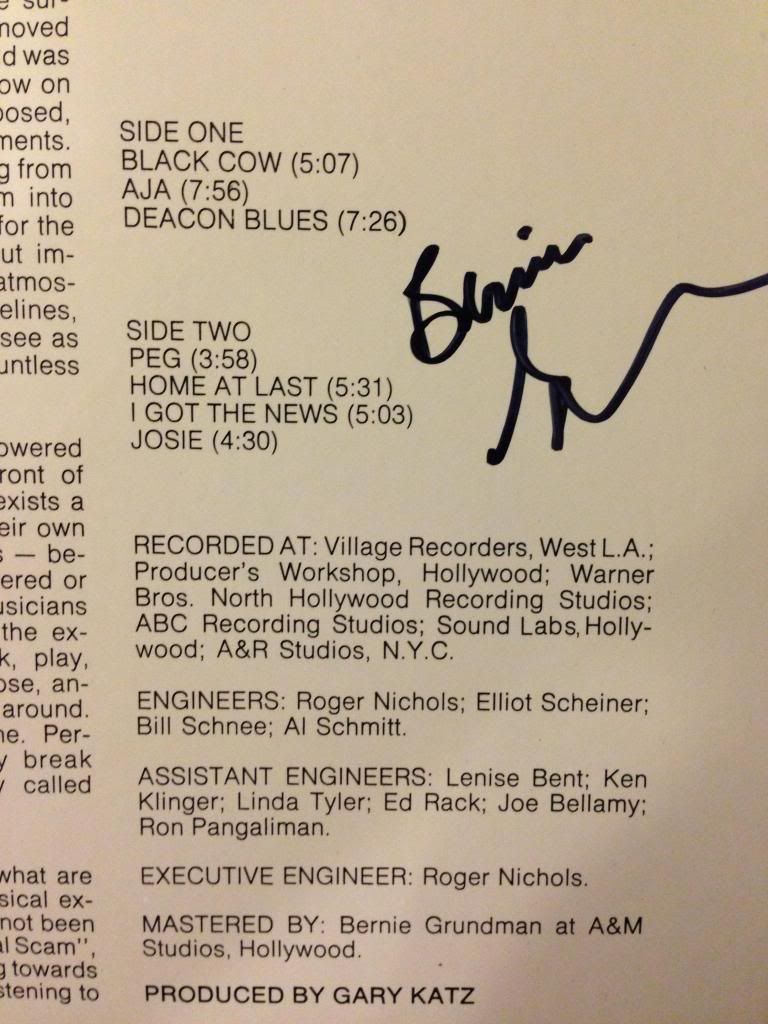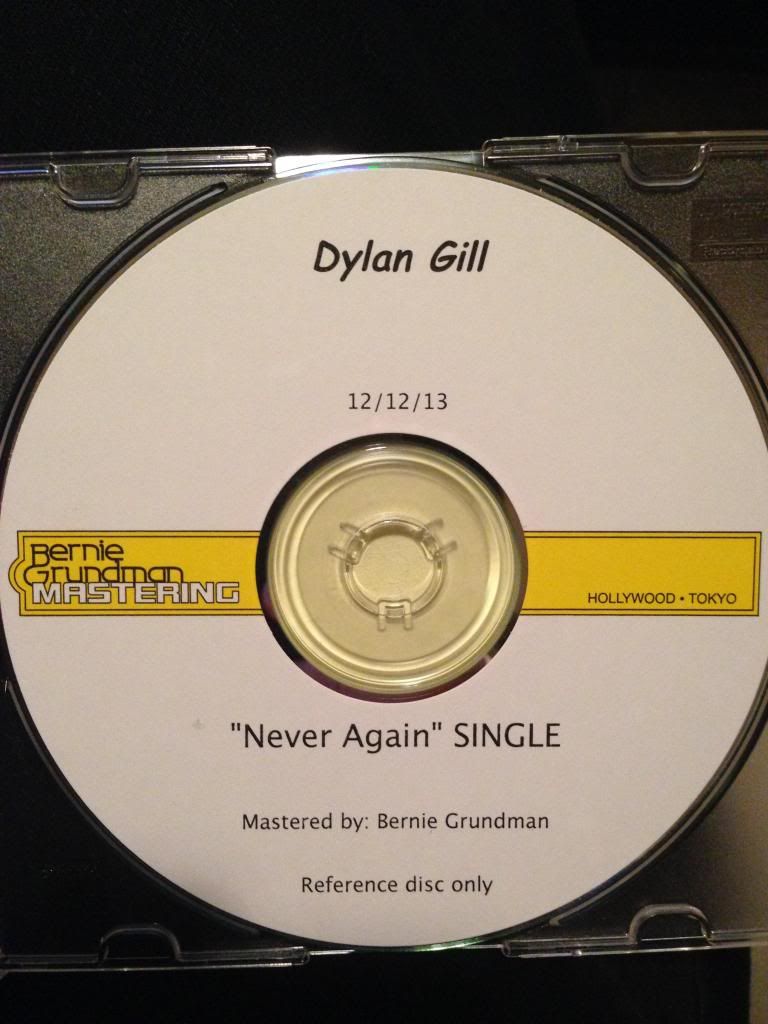 Well, that's all for the story all that's left is the actual tune

Hope you guys like it!
You can hear it here for free on my bandcamp:
Dylan Gill
(my bandcamp)
If you did enjoy it you can buy it from iTunes or Amazon.
https://itunes.apple.com/us/album/never-again/id784873668?i=784873674&uo=4
[ame=http://www.amazon.com/Never-Again-Dylan-Gill/dp/B00HE5TR30/ref=sr_1_3?ie=UTF8&qid=1387520429&sr=8-3&keywords=dylan+gill]Amazon.com: Never Again: Dylan Gill: MP3 Downloads[/ame]
Thanks for your time, hope you enjoyed the read/ song!