Joined

Jul 2, 2018
Messages

38
Reaction score

16
The Guitarist Community has been very good to us. We dedicate a good portion of our life to the passion of tone. We eat it, we sleep it & we work at it. It's a labor of love & without the support or guitar playing public, none of what we do would be possible.
We believe in giving back. It's hard to imagine a better or more appropriate charity to work with than Guitars4Vets. It's a cause close to our hearts for a few reasons. Obviously it's a good fit because we are in the guitar business but more importantly it benefits Veterans.
Members of our staff have close relatives that are Veterans. We view the special people as hero's and we've witnessed some of the issues they battle. We've also seen how a guitar and lessons from Guitars4Vets can transform the life of many Veterans.
We are so proud to work with this amazing charity. We have donated a set of our Best Stratocaster pickups for Classic tone. The Tone Specific 1954 Strat Pickups are being auctioned by a dealer on eBay. These pickups are the closest set tone wise we make to the originals found in the 1954 Fender Strat. Bidding started at $1 & they'll go the highest bidder. 100% of the proceeds from the auction will be donated to Guitars for Vets.
You rarely see our pickups show up on the used market & there is currently a 6-10 week on new orders. This is about the quickest way you can get a set.
So click the link below and place a bid on our Best Strat Pickups for Clean tone. If you win, you'll help a Veteran & fix your tone at the same time.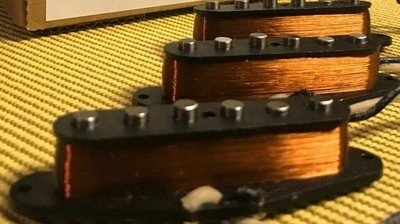 Lots of guys say they sound like they have tubes in them. Jazz Legend Mark Whitfield says they make his Solid State amp sound like it has tubes in it. "It's like plugging into a nice Studio Tube Compressor.you hear every nuance of every note.