This one is not mine anymore, but I have some pictures from when I owned it. Just sharing for those that may be interested. Notable about this guitar:
-Neck is not big, even though it was an earlier 1959 Standard. At about 0.86-0.95, with no shoulder. Everyone that played it commented on how much they were surprised by and liked the neck. The current 2018 59 reissues I think are nailing the shape and size of the neck of this old Burst.
- The bridge did not sit very low against the body - the neck angle was a little steeper than some.
- Well-worn, but no checking. Was in Texas its whole life.
- The original owner Buddy, who had the Bigsby installed, had put stickers spelling his name on the pickguard, and the sticker shadow has branded the guitar "Buddy" forevermore.
- Weight was average at about 8.75 lbs
- Flatsawn back and flitch matched flatsawn/riftsawn top with riftsawn neck
- Original electronics and PAFs, covers never removed - Bumblebees are PIO
- I bought it from Eric Johnson, who had the guitar refretted with his special wire. Otherwise, the guitar is all original.
- When Steve Miller played it live, he told me it sounded like Dickie Betts to him, and Steve would then discuss the guitar later in a September 2010 Vintage Guitar article, saying:
"We were doing a tribute for (late bandmate) Norton Buffalo at the Fox Theater in Oakland in January; he graciously brought all 3 - the '59 was formerly Eric Johnson's, with 'Buddy' written on the pickguard. It was great to play the real deal and see what it really sounded like 'cuz I hadn't played a real '59 in so long, you know? And it was this lovely, sweet, clear-sounding guitar. It had all the stuff you wanted, and its lower strings had a clearer tone. You had to crank the amp up a little more, but once you did, the thing started to sing. It wasn't as hot as a Burstbucker pickup but it was clearer-sounding and a little sweeter, more musical. That's why I started looking at Les Pauls again. I thought "Okay, I get it."
Enjoy!
Cathedral grain flatsawn back.
Note the oblique orientation of the cathedral grain in the neck.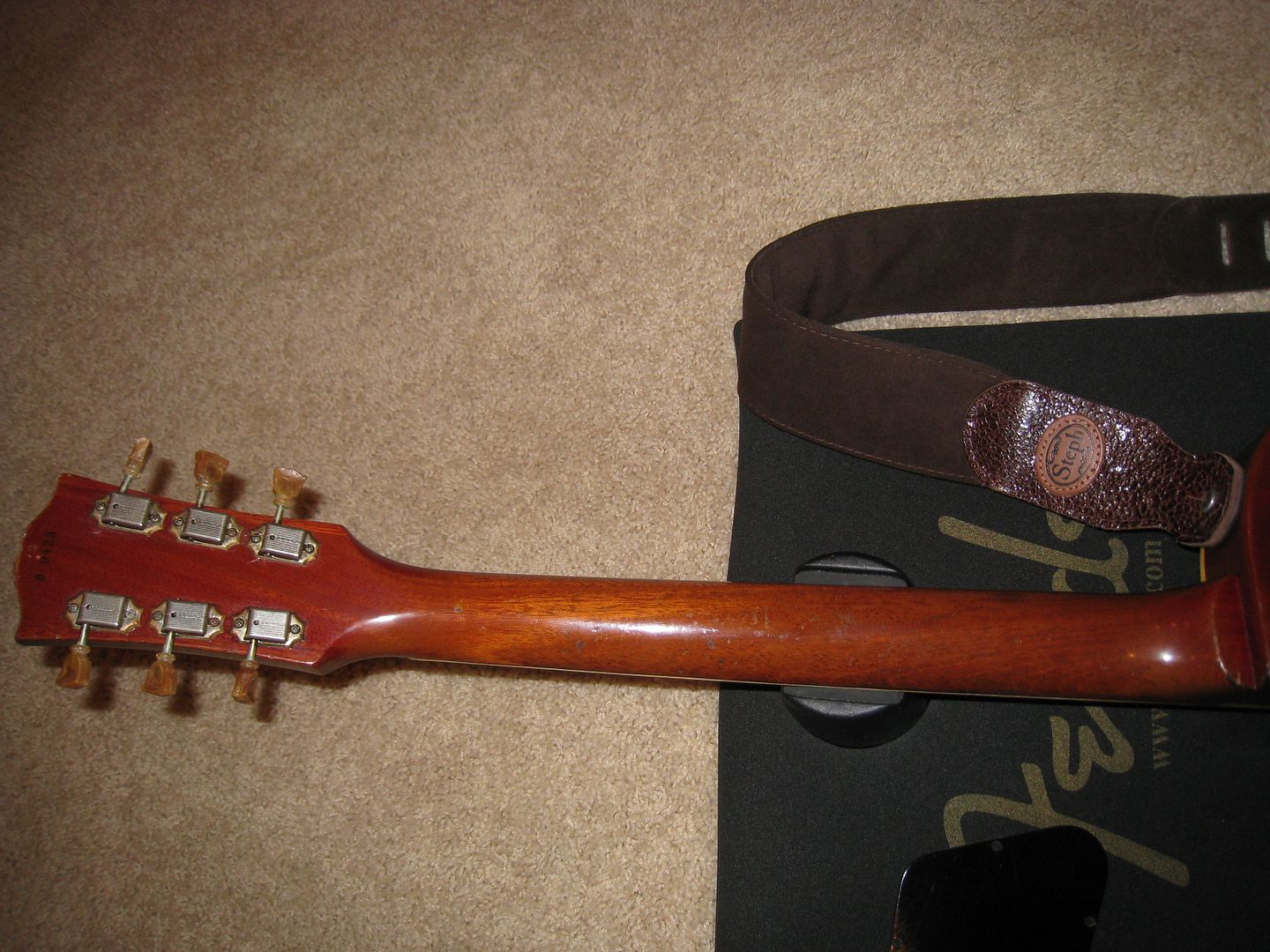 Note the bite mark in the upper left - a consecutive series of guitars in this serial number range in early 1959 had this feature.
Note the PIO Bumblebee caps - not all Bursts had PIO caps.
This is one of those bursts where the truss rod cover is originally very close to the nut - some are more widely spaced.
That's a 2009 50th Anni Gold Certificate reissue in the background.
Here it is on stage with a 1955 Strat and 1953 GT, waiting for Steve Miller. It was a thrill listening from the floor as my guitars got played at stage volume by Steve. Great guy.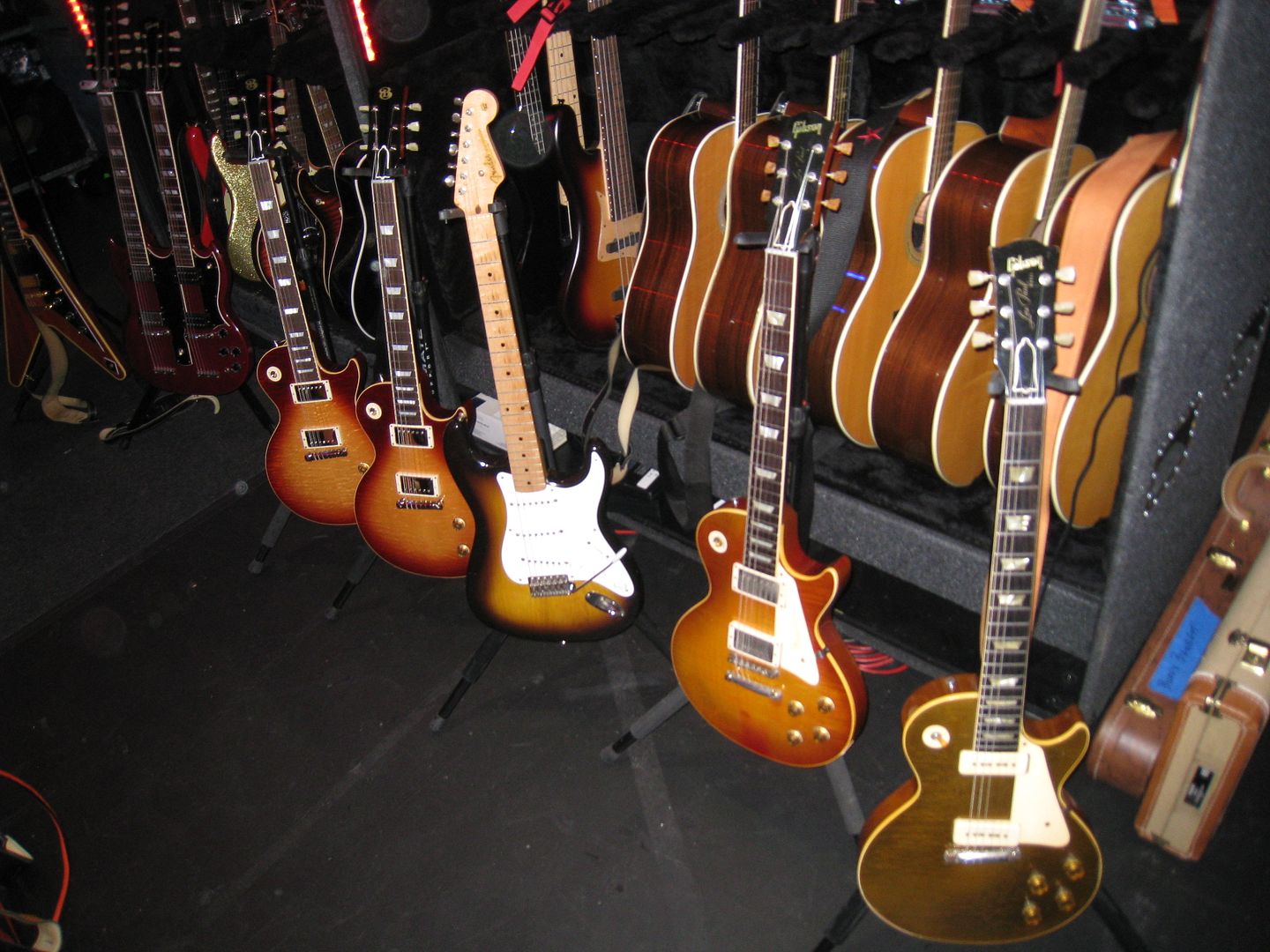 Eric Johnson owned it before me, and had it refretted.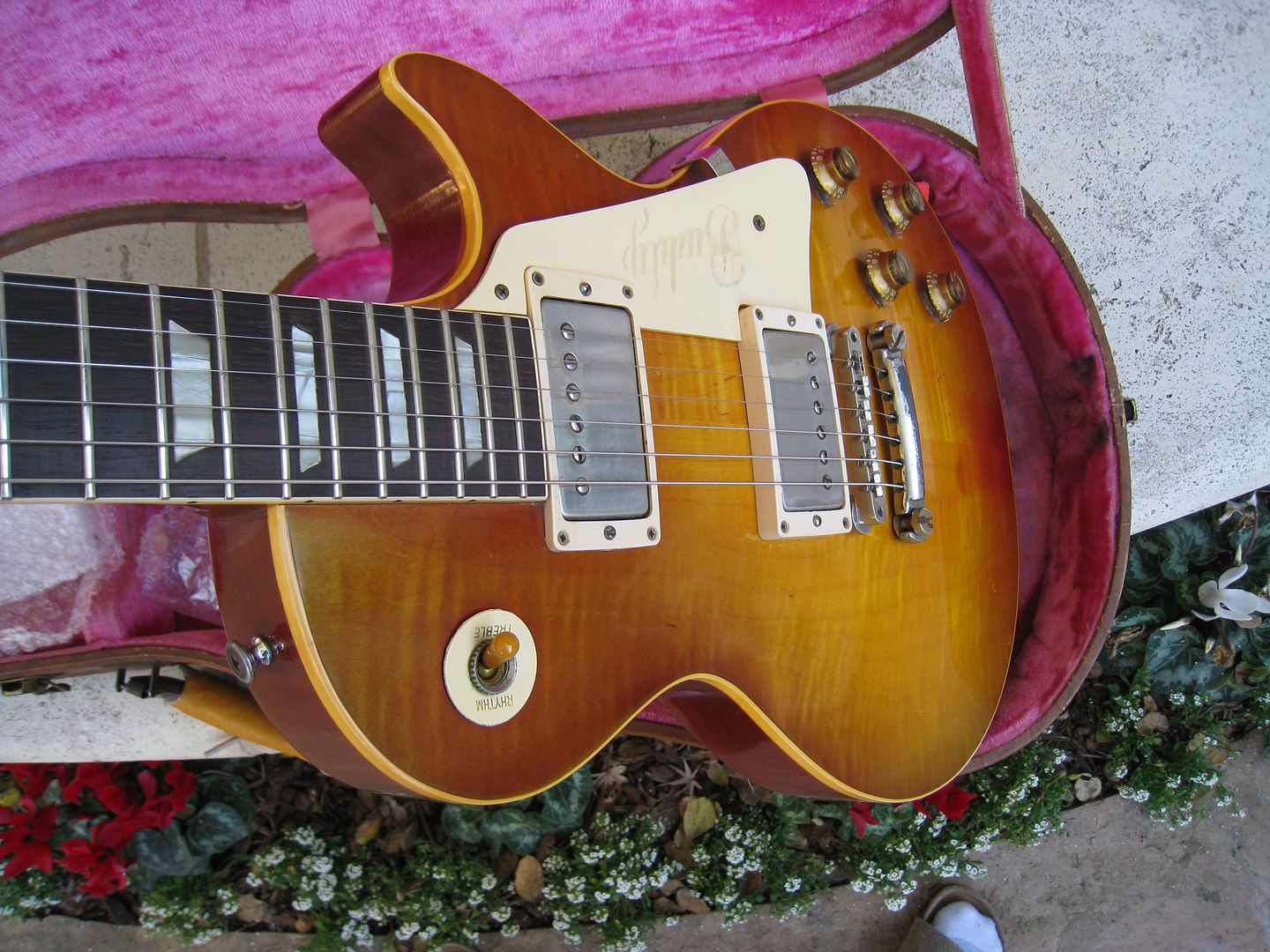 Eric had bought it from the original owner, Buddy, a preacher who had a Bigsby installed at the store.
Last edited: