Joined

Jan 3, 2010
Messages

2,462
Reaction score

1,979
Hi Everybody,
I've actually had this guitar at home since yesterday (my birthday), but have been too busy having fun with it to take any pics until now
I had posted an 'Upcoming NGD' thread for this guitar after it was acquired, but didn't want to do a proper NGD post until after my birthday....
The story: I've been a huge Randy Rhoads fan since my brother bought the Blizzard of Ozz LP, when I was about 11. I absolutely love (to this day) that album & DOAM. I was also transfixed by the rear cover photo of Ozzy's band playing live, especially the blonde guy holding a Les Paul on the right of the picture. I already knew about Les Pauls, as my dad was a guitar owner & collector (tho mostly Telecasters), and I knew what they were, and already loved them. My first guitar hero (wasn't everyone's?) was Ace Frehley, and I still remember bringing kids home after school to look at my Dad's one Paul, a '70's Clownburst Deluxe lol).
Like many ppl my age & older, I was shocked & heartbroken to hear of the events of March 19, 1982. Ozzy was still good afterwards, but not the same as with Randy. Anyways, I always idolized Randy, along with EVH & thought he had the coolest Les Paul...not only because it had the cool split-diamond inlay on the headstock, but was actually slowly turning yellow, for what seemed no explicable reason!
For me, that was always the Holy Grail to have, and as I've slowly built a collection, since about 2007, the RR GAS never completely abated, even after I got my own Custom, an '89 Black Beauty, from these very Classifieds, in 2010. I even came very close to buying a used Burny RR Model (remember those?). As time went on, I got some of my dream guitars (R9, Explorer, Trad, 2 older Fenders from my dad, Ernie Ball EVH, 5150 Replica built by an excellent luthier from NYC etc)...but none of these were a Rhoads white Les Paul. After horse-trading myself into a pretty nice collection, & with my 50th coming up, I hatched the idea for what I would consider the ultimate present, after I was asked about my dream gift. I had helped my sister-in-law source a cool aged Goldtop for my brother's birthday last year. So I knew I could find the right present myself (as weird as that sounds). I didn't really trust anyone else to find exactly what I wanted (a real '74, in vintage condition, great but not trashed, & not a Reissue). So I checked in with my brother & wife, and they both pledged to chip in on my gift. But these are not exactly cheap or easy guitars to locate, especially not in the frozen tundra of Western Canada.
So I started hatching plans: I started scouring Reverb, Kijiji, even eBay, obsessively for candidates, and also had to sell a few off to make this work. First off, my beloved '89 Custom, the Road Warrior, as well as my Peavey Wolfgang, & my just-acquired 2002 Les Paul Classic. It took a while, but I moved them all, and then started saving with a vengeance. In the meantime, in May the perfect '74 popped up. Exactly what I was looking for! Someone here even posted it on the Ebay deals page. It was also a ways out of my price range....I thought about it for a few days, confirmed with my wife, took a deep breath & made an offer....rejected....made another offer...rejected...third offer...also rejected. I decided to take one final swing before turning off the computer & admitting defeat. My next offer was accepted! I was SO excited! I almost entered the wrong payment info in Reverb that night!
It finally arrived, and I did a cursory check to see if everyone was ok. It had old strings that looked like they hadn't been played or changed in a couple decades. It did have original T-Tops, no damage of any kind, original frets in great shape, and back in the day, someone added vintage Bumblebees (yay!). Otherwise it was all original, with pots dated late '73. Dropped it off to my tech for a setup, and quickly plugged it in after it returned. This thing is now a monster!
So it's been sitting at a secret location (probably under a bed lol), not being played and only tuned occasionally, from May, until this week...thanks for listening to my story, & I am SO excited to present to you my all-time fave, #1, 9.8 lbs of Norlin goodness, 1974 Les Paul Custom, in Alpine White: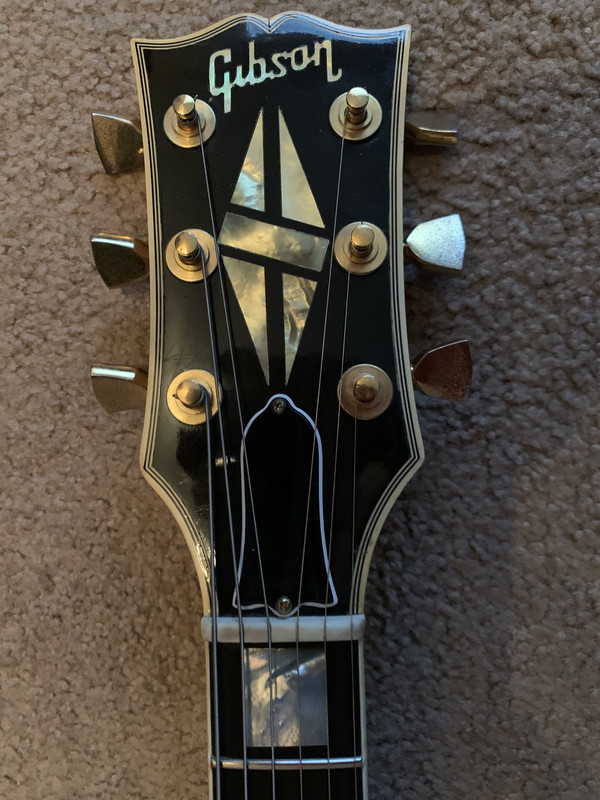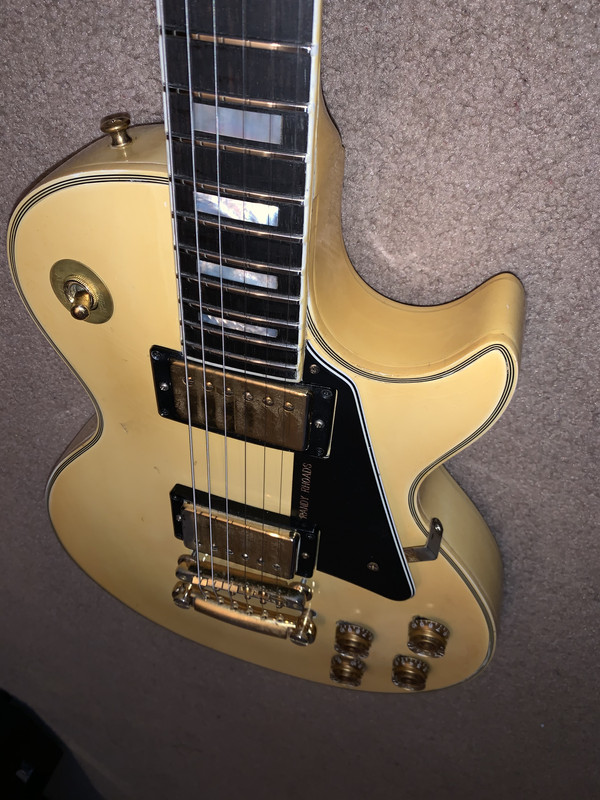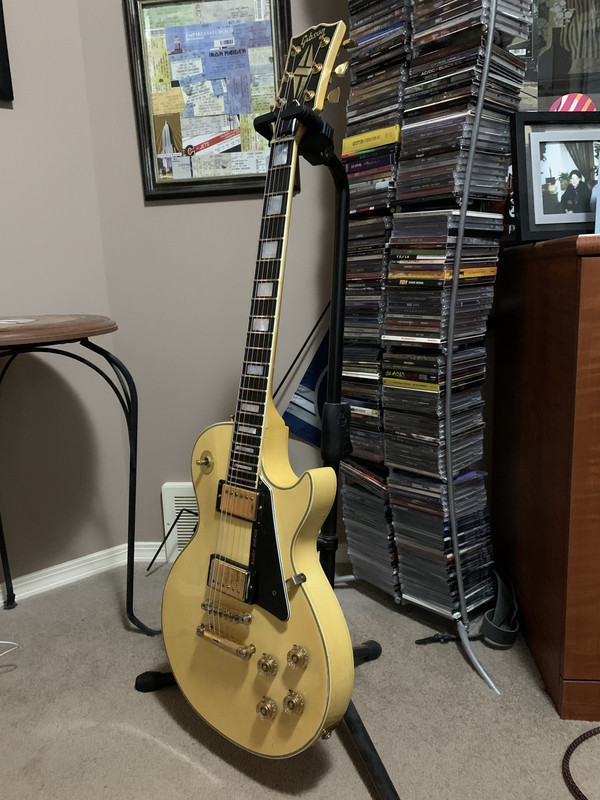 Last edited: