Joined

Feb 8, 2013
Messages

429
Reaction score

485
Hey guys! Been a while since I've posted! But now that I have something cool to share, I thought it would be worth your while. I just recently got a Babicz Tune-O-Matic Bridge and Stop Tail installed on my LP Studio Swirl. Here are my thoughts.
I personally can't notice any changes to the tone. Maybe with more time, it'll dawn on me. But I do know that I sure as hell love how it feels!

I find that string bends feel more fluid and comfortable. I think you can especially tell when you're playing in the upper register of the guitar.
I've read some reviews stating that it takes a while to adjust your palm placement during palm muting. In my experience, it took no more than a few minutes to adjust to the larger bridge, and it was back to business.
It's also supposed to increase your sustain because it's made of solid aluminum. But please don't ask me to explain it. lol And besides... I don't have the patience, nor do I have the expertise to test that. lol
I do, however, dislike the massive "BABICZ" logo on the stop tail. They could've made it a bit smaller, but I understand the need to spread the word. And I think it's valid to note that my guitar tech said the Babicz bushings that came with the bridge didn't fit, and that he had to use the stock bushings. But it still works just fine.
FWIW, I highly recommend it!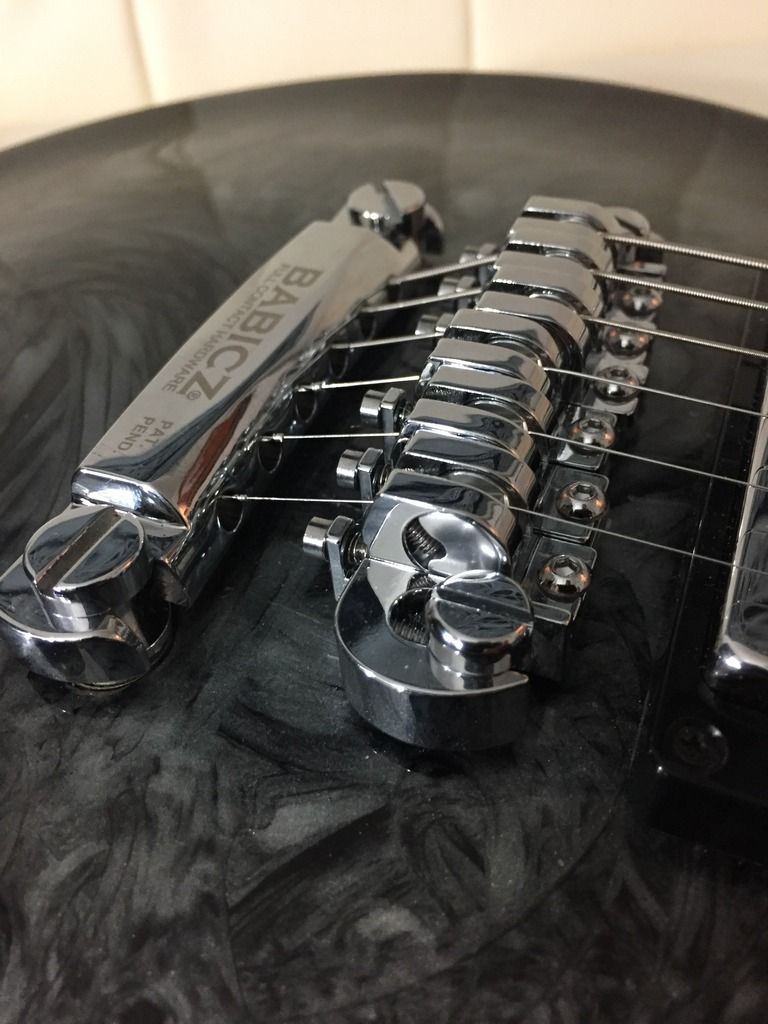 Other features that my interest you:
Bridge p'up: Duncan Custom
Neck p'up: Duncan Pearly Gates
Wiring Harness: Martin Six String Customs (I hope/pray he's doing well now)
Tuners: Gotoh locking tuners
Nut: TUSQ