Joined

Sep 2, 2007
Messages

7,569
Reaction score

9,438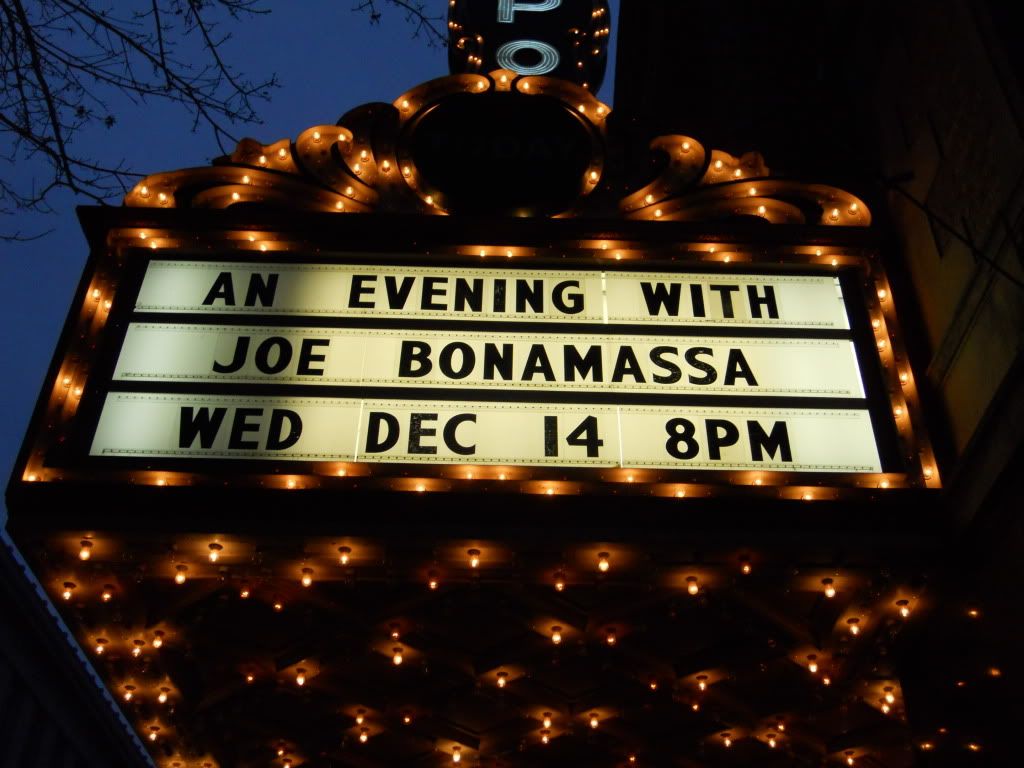 First of all, I would like to thank forum Brother, tjhemp, for inviting me to join him.
THANK YOU!!!!!!!
I am grateful.

Hemp and I arrived at the Arlene Schnitzer Concert Hall, with guitars in hand, a little early.
Hemp is toting his Bonamassa Studio, and I the GC R8/R9 Stinger.
As we take our place in line for the meet-n-greet, we notice that the gentleman behind us has two guitars. His cases, clearly, are Les Paul's.
Since has been scientifically proven that when 3 guitar players are gathered, they WILL talk about gear.
So, we then start up our pre-destined conversation.

It turns out to be forum Brother conorb, wielding his Bonamassa Studio and a Bona-Burst from the Custom Shop. He and his significant other are very pleasant and great to talk to. Conorb's lady friend happens to be quite the photographer.
They were so nice that our wait in line was effortless and soon, they opened the doors and the line started moving.

Once inside, Hemp and I take a short detour to the merchandise tables and see that Joe's new wah and fuzz pedals are for sale there.
As soon as the vendor sees our guitars, and sells Hemp a shirt, he tells us and shouts to everyone in line to take their guitars out of their cases.
We ignored the order as we were way too close to the front doors to leave a case there, we finally succumbed to the order and placed our cases with Conorb's as we got closer to the front.
I put my strap on my guitar for the added safety of the straplocks.

I become very popular as people notice the Stinger. Now, the whole crowd is talking about gear!

A gentleman comes up and starts talking to me. He is, also, a forum member. I have forgotten his handle on here, but I think his name was Dan.
Dan is very knowledgeable about the Music Machine Stinger run, yet wanted an explanation of this run.
Boy, did he get it!
He tells me that he has brought a 50th R0 V3 and a 1963 Firebird!!!!
After some conversation, Dan tells me that he is going to GIVE Joe his 1963 Firebird!!!!!!

I have given 3 guitars away in my lifetime, and each time, Karma has insured that it has come back to me in spades….the gift of tonight, was one of them!

He invites me to the back of the line, after my turn with Joe, to check out his guitars…..of course, I accept.

This is Dan talking to me: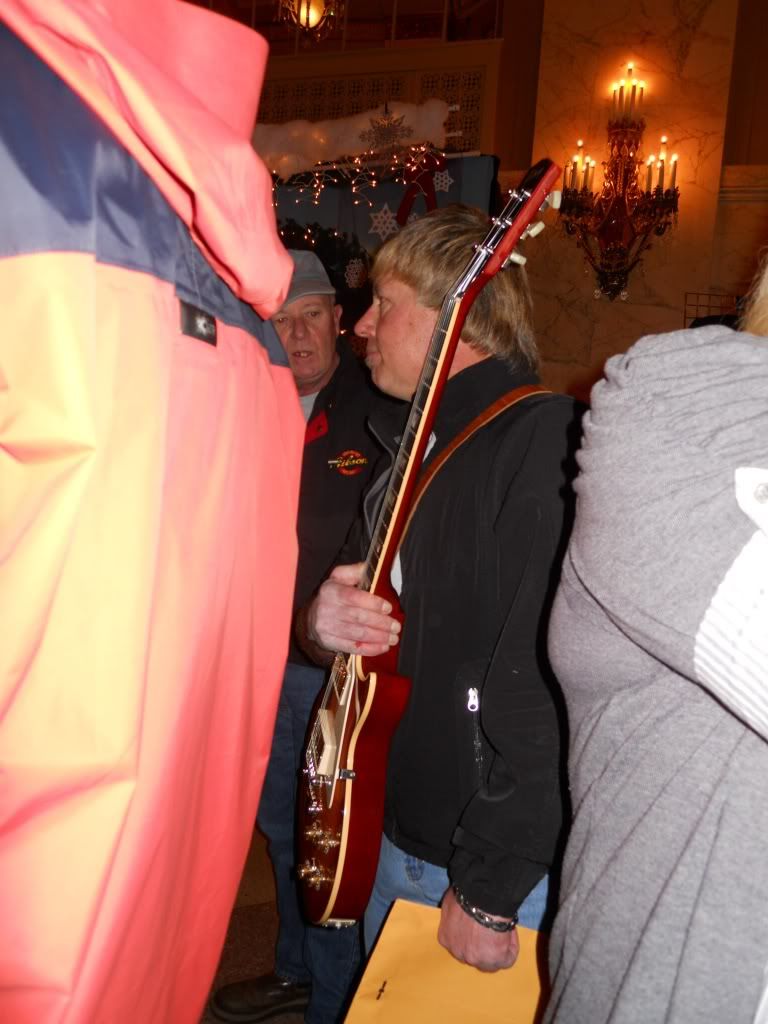 Shortly after Dan's departure, I see Conorb putting his guitars away and got a good look at his Bona-Burst. (Which, BTW, is a LOT better looking in person than in pictures.)
This means that we are just a couple of people away from talking to Joe.

Just then, Joe looks around a lady in front of me and exclaims: "THAT'S an R9!"
Without a word, I turn my guitar around to expose the back of the headstock.
Simultaneously, Joe and I look at each other and say: "S-T-I-N-G-E-R!"
LOL! Too funny!

Moments later, it was Hemps turn. As Joe was signing Hemps GT, we all got talking about the LP forums and those we know in common.

We continued talking about people and gear while we got Hemp all situated (Joe remembered Artie, Frank, and Jeff, amongst others, from the Philly guitar show) and then the topic of Frank's "PineBurst" came up.
It was now clearly my turn, and as Joe and I spoke of the "PineBurst".

Joe interrupts us by reaching his hands out and saying: "Let's check this thing out!"
He pulls the strap over my head, slings it over his shoulder and starts pluckin' away on the Stinger.
Mine was the only guitar he played during the meet-n-greet, save one….but, more on that in a min.

Here Joe is talking about the "PineBurst":



As he is playing the Stinger, he states: "It is a Gear Fest tonight"..…"I brought a '60 Dot, that I bought at a meet and greet, just like this one."…he pauses to finish a tasty lick…..
He continues…."an R9 HM, my V, R9 with a Bigsby, an aged signature, a '52 tele"…."oh, and I borrowed Charlie Daughtry's Trainwreck!!!!"
"A Comet?"…… I ask.
"Indeed" he answers.

He verbally pauses while he finishes playing. Hands me back my guitar and says: "THAT, is a good guitar….Thank you!"

Then I say to Joe; "I'm gonna go play this guy's 1963 Firebird in the back"
Joe looks to the back of the line and says: "Really?"
I answer, knowing very well that Joe might be the new owner of that guitar: "Amazing, Huh?"

Man, If I had known who Joe's special guest was that night at this time……..(You'll see why later)

Hemp and I go to the back of the line and off to the side, Dan has his two cases on the floor.
I open the Firebird case to see that it is a beautiful Firebird I.
I ask for, and am granted, permission to play the relic as old as I am.
It was super light (about 7.5lbs, if I were to guess), played like butter, the Braz board was real waxy and resonated like a MOFO!
I then played his 50th R0 V3 which was a good guitar in it's own right.

We thanked Dan, and walked our guitars back to their cases, up by where Joe was.
Joe asks me: "Well?"
I reply: "WOW!.....it is awesome!"

Hemp and I grabbed our cases and walked out. We now had a couple of hours to kill and ran our guitars to a mutual friend's house for safe keeping.

After coming back for the concert we wondered if Dan really gave the guitar to Joe.

We are Ushered to our second row seats which were, folding chairs, placed where the orchestra used to be..….an area known as "the Pit". This auditorium holds about 2,500.

While we were standing there, taking pictures of Joe's gear…mostly of Charlie's Trainwreck, as this was as close as I have ever been to one.

No less than 10 or 15 different acquaintances' came up to say hello since Hemp and I could be seen by the whole theater (one was forum Brother Specfly) ….now, it has been 20+ years since I was in the music industry……and this moment, was a great re-live of the glory days as there were those watching and visibly asking themselves "who is this popular guy?" in the VIP section.
It took me back to the days that I lived with an "all access, laminated, pass" hangin' around my neck 24/7…..good times!

Joe opens like this:

[ame=http://www.youtube.com/watch?v=CBn49RVfSw8&list=UU3xcgHwQ8tgVnIItQpQdEYQ&index=5&feature=plcp]Bonamassa2 017 - YouTube[/ame]


A few songs into his set, we find out the fate of the 1963 Firebird I………….

[ame=http://www.youtube.com/watch?v=BK7bII7OIuA&list=UU3xcgHwQ8tgVnIItQpQdEYQ&index=3&feature=plcp]Bonamassa2 046 - YouTube[/ame]


What happened next blew my mind!
Joe introduces his Special Guest……it is my old friend, and masterful guitar player, Eddie Martinez!
Now, if I had checked my Facebook …..I would have known he was gonna play with Joe, due to Eddie being a friend, and he clearly posted it on his page.
Eddie comes out playing his new Briggs Apollo, loaded with Bare Knuckle pickups, and tore it up!
He was only using a little Mesa Boogie for a 2500 seat auditorium..…great invention, the microphone is!

Joe on his blister topped Burst and Eddie on his Briggs Apollo:

[ame=http://www.youtube.com/watch?v=RB2svO9igNU&list=UU3xcgHwQ8tgVnIItQpQdEYQ&index=6&feature=plcp]Joe Bonamassa Portland, Oregon - YouTube[/ame]


Slow blues with Eddie....check out his crazy 4 stop bends here:

[ame=http://www.youtube.com/watch?v=XFem18-DE_A&list=UU3xcgHwQ8tgVnIItQpQdEYQ&index=2&feature=plcp]Bonamassa2 083 - YouTube[/ame]


My only bitch was that I looked like shit after a long day at work………
Good times!

Thanks again, Hemp!!!!!!