Joined

Aug 22, 2007
Messages

5,128
Reaction score

5,733
So I'm wanting to find a new small combo tube amp and figured today (Presidents Day) would be a good time check out a couple of amps I've had my eye on for a while since they had some sales going on today. Well I end the day with no new amp but I'm a little wiser and have taken 2 of my possibilities off my list after test driving them today. So I'm open to comments and suggestions as my search continues.
First, here's my requirements list...
Small 1x12" combo (but I would consider something like the Egnator Rebal 20 head with 12" speaker (but nothing bigger than that).
Low wattage (20 watts +/-) - since the places I play (church, blues jam, recording, etc.) I'll mic the amp and I just don't have the chance to really "open up" louder (i.e., higher wattage) amps in order to get decent sounds out of them.
Tube amp that takes pedals well - When playing with the praise band I use a rather extensive pedalboard and need a wide range of overdrive/distortion and clean tones depending on the song so I'll be using some pedals to push the amp (e.g., Hot Cake Bluesberry, Barber Direct Drive, MI Audio Crunchbox, Rat, Little Big Muff) and have other effects (wah, phase, delay, etc.)
Effects loop - this is a nice to have as I'd prefer to run my delay/modulation effects in the loop if possible (but this is not a must have)
Good clean sounds
Good bluesy overdrive sounds when pushed WITHOUT pedals- sometimes I'll want to take just the amp and a guitar to a blues jam and want to get decent (bluesy) tube overdrive tones WITHOUT pedals on these occassions.
Works well with both humbuckers (Gibson CS-356 with Classic 57 pups or a Les Paul) and singlecoils (Strat or Tele).
Budget - up to $500 (at least that's what the wife wants it to be - LOL)
So with the above spec list in mind I wanted to test drive the Bugera V22 and the new JetCity 20 watt combo today. I ended up also trying the Egnater Rebel 20. Here's my thoughts and finding...
Bugera V22
(20 watt tube combo with 12") - Used a G0 Les Paul (Guitar Center's 1960 VOS Reissue) plugged directly into the amp's normal input. They were selling these for $319 on sale today.
On paper this amp seemed to meet all of my requirements (even comes with an effects loop). And at first I liked the sounds of this amp. Decent cleans and nice warm overdrive at reasonable volume levels (i.e. bedroom to stage volume if mic'd).
But then I heard it! The infamous tube rattle/buzz that many have mentioned in recent forum discussions. It was most noticable when I was on the overdrive and hit a C note on the D string at the 10th fret. So whatever frequency that equals seems to cause something in the tube or chassis to resonate. It was loud enough (coming thru the speaker) to make me say NO to this amp (even though I really liked some of the other sounds I got out of it).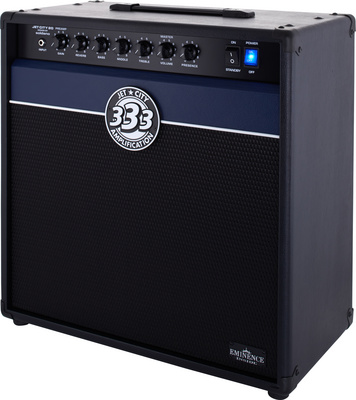 Jet City JCA2112RC
(20 watt tube combo with 12") - Used a Les Paul Traditional and a Fender Eric Clapton Strat plugged directly into the amp. They are selling these for $400 this month at Sam Ash (regularly $499 but with an extra 20% off with coupon
http://www.samashmusic.com/coupons/sam-ash-coupons-feb-2010.pdf
)
I really liked the blues overdrive sounds I got out of this amp (I went for a creamy "woman tone" on the Les Paul's neck pup with the tone rolled back). However, it seems to be something of a "one-trick pony" since no matter what I tried it always had some type of overdrive sound (i.e., it did NOT clean up enough for my needs - even with the Gain turned down to 1). So my thought is that this amp (designed my Mike Soldano) would be good for warm tube overdrives, etc. but is not a true multi-purpose amp.
Egnater Rebel 20
(head with 1 to 20 watt control and variably switchable between 6L6 and EL84 tubes, with 12" cabinet) - Used the same G0 Les Paul (see above) and played around with the Bright and Tight switches.
This is a great little amp overall. It cleans up nice and has some nice overdrive and tone combinations when mixing the tubes. I preferred the keep the Bright and Tight switches off but that's just a personal thing. However, the head/cabinet cost around $800 combined so it doesn't really meet my requirements (but I haven't completely ruled it out). But it is still really nice little amp.
So now I'm still searching. I've owned a couple of Peavey Classic 30's over the years and they are close to what I'm searching for. However, they are actually too loud for my needs (I could never get above about 2-4 in many situations). So I'm thinking 30 watts is probably too powerful (but I know that really depends on the amp). Right now I have a Peavey VK112 (50 watt tube combo with 12") and it is somewhat like the Classic 30... but still isn't what I really need. So the search continues... any suggestions would be much appreciated.
Oh BTW, a friend of mine just built a Dumble clone that he swears will meet all of my needs. I will get a chance to test drive it this summer when I visit him. He based it off of this design (but tweaked it some):
http://schematicheaven.com/dumbleamps/dumble_layout_50w.pdf
So I'm interested in hearing any comments from any of you custom amp/clone builders as to what you think of this idea.