Joined

May 30, 2008
Messages

53,038
Reaction score

210,894
With all the scum and parasites that are floating around these days breaking into properties and stealing things in general it's peace of mind living in the country with two big German Shepherds.
We haven't got guns over here in Blighty, but then nor does the average petty criminal, so that cancels itself out, but dogs go one better, as they let you know well in advance before anyone even gets near your property, let alone into it and also guard when you are not at home.
When I approach people with my two, they immediately clear a path, almost as if you had two crocodiles on a leash.

As one little shit said standing with his hoody pals on a street corner in a local town some years ago as I was walking by .. " Does it bite mate? " with a smirk on his face. I just stopped, looked him with a smile and said quitely ." Only when I tell him son" Boy! That soon wiped the silly smirk from his face.
Another guy jokingly said. "Wow ! You have some nice guitars Phil I'll have to come and unload you of a few one night".
" Wonderful" I replied. " I take it you like grapes?"
" Like grapes"? he said with a puzzled look on his face. " Why grapes?"
" Well that's what you normally bring people in hospital isn't it, coz I'll be coming to visit you when you are having your arse sewn back on".
" My dogs have free run of the house day and night and you certainly wouldn't want a combination of about 2,000lb of bite locking on to your scrawny little derriere would you?"
A weird guy once passed our cottage whilst everyone was out except my wife. She took no notice until she went to the back door to put some rubbish out and saw him leering at her through the window. She just instinctively called our old male ( Now passed on ) Kaiser!!
Old Kaiser flew to her side, took one look at this guy and nearly broke the door off its hinges trying to get at him. My wife said she'd never seen someone run so fast up the road.
Another of my old bitches, also passed on saved my wife when a nutter tried to open her car door in a country lane when she was at a red light.
Old Maxie was asleep on the back seat and got up as he grabbed the door handle.. He made a quick exit too as she rocked the car trying to bite him.
Luckily I didn't happen to be there, coz I would have opened the door and told her to seize him as he was running. Either that or I would have run him down.

Yes, my Shepherds are expensive to keep, but boy are they worth every penny as friends and loyal family companions.
A toast to man's best friend...

Kaiser and Maxie.
Now sadly departed from this world..
And my current two.
Django
And Inka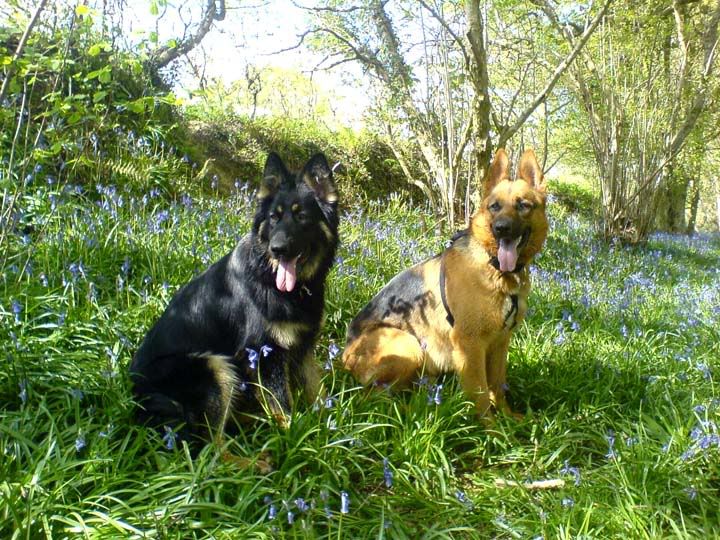 I have some pics of our first German shepherd Max from way back , but I'll have to scan some old pics.
Boy! He was a bruiser. He would would sit in the garden with my daughter when she was small and if anyone came in the garden he would put himself between her and whoever it was.
I just hate losing them. On both ocassions with my old shepherds I have had to leave the room quickly to grab some kleenex when the vet had given them the final injection. They just looked at me lovingly with those big brown eyes and then they gently closed. ...God I just lost it,
Do men cry.. You bet they do..