Joined

Sep 18, 2008
Messages

545
Reaction score

45
Just in time for christmas... 2 beauties… one mine, one a friends.
Collings 360 - Doghair
Absolutely Mint condition. This is one of mine. I've only had the guitar a short while and have been kinda on the fence about what I want… I'm used to heavy guitars with huge necks that fight back when you play'em. This collings is almost too light and too comfortable for me… believe it or not. Before I go and get too attached, I figured I'd open it up to my friends to see if anyone wanted to. Please note that any imperfections you see in the pics are dust or smudges. Pics hardly do this guitar justice… the finish is immaculate.
Specs from Collings:
One-Piece Solid Honduran Mahogany Body
Fully Carved Top
High Gloss Nitrocellulose Lacquer Finish
East Indian Rosewood Fingerboard
Ebony Peghead Veneer
Inset Black Top Hat Knobs
Custom Mini-Humbuckers by Jason Lollar
Hand Set Mortise and Tenon Neck Joint
24 7/8" Scale Length
50's Style Wiring
12" Fingerboard Radius
Tone Pros Bridge and Tailpiece
Sperzel Tuners with Black Perloid Buttons
and from me:
Lightweight! only 7lbs 3 oz!
Great not fat/not skinny neck profile. A nice round "C" handful with soft shoulders. Measures .864" at the fist fret, .997" at the 12th.
includes the Ameritage Case, original receipt from Fatsound, Collings Bumper Sticker, Warranty Card, "thank you" postcard from collings and the case keys and tonepros bridge/tailpiece allen wrench.
*the guitar is shown with dunlop straplocks, but I'll be putting the original strap buttons from Collings back on.
Please look through youtube for clips of the 360. It's a premier guitar award winner for a good reason. its comfortable, and it sounds great. The lollar pickups really bite nicely without being harsh.
Looking for $2400 obo paypal'd and shipped to CONUS. International, please contact me. Any questions or whatnot, feel free to PM me here or email iparra "at" gmail "dot" com. You can also call me at (Nine One Six) Two Seven Three – Zero Eight Six One. I'm on the West Coast, so please keep it to 8am-8pm pacific.
LOTS of pics here:
Collings 360 pictures by czarivan27 - Photobucket
if you have any requests for pics, I'll do my best, but as you can see from the pics, the weather may not cooperate for good outdoor pics.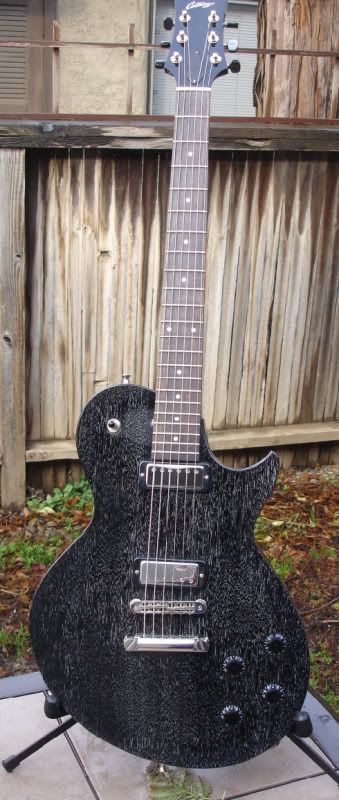 Now for my friend Wayne's guitar.
2005 Gibson ES-335 Cherry Flametop
this guitar is also beautiful and sounds great. He's in a pinch so he's trying to sell some of his gear. I thought I'd help him out with this one.
The guitar is completely stock (straplocks will be replaced with original strap buttons). The tone is great on this one. Lots of range… can be used for just about any musical style. It has a thin 60's "D" neck that measures .840" at the 1st fret .887" at the 12th. The guitar weighs in at a comfortable 8lbs 9oz.
Overall, the condition of this one is more a player. the pickguard was taken off for aesthetic reasons so there is some light pick wear and very light scratching. the body front has a few tiny "dents" in the finish, nothing to the wood. There is a tiny amount of finish checking around the neck tone knob. No chips, breaks, repairs, etc. The back has a some light worming and one scratch that is pretty visible. the pics make it stand out more than it actually does in real life.
Although the pickguard was taken off, it is included along with the mounting screws. the pickguard doesn't even have the protective film removed yet. Also included is the original Gibson case and blank warranty card.
An interesting note, the stamped headstock SN does not match the inside body tag by the last digit 01945726 vs 01945728. I called Gibson about it and they said it was probably an honest mistake as the body tags are hand written. Both SNs describe this exact guitar according to their records. the warranty card from gibson that has the headstock SN on it.
Wayne is asking for $2000 obo for this beauty. Please shoot me a PM or email or call me and I'll get you his info if you'd like to speak with him directly.
Lots of pics, but the weather wasn't very friendly this morning. If you have requests, please let me know and I'll get as many more as possible.
ES335 pictures by czarivan27 - Photobucket