Joined

Jan 23, 2011
Messages

572
Reaction score

572
I posted this in the Vintage SG section, but now I realize it may become a running restoration thread I will post here from now on.
I'm very much open to suggestions and advice. I will be needing a new Brazilian fretboard... maybe someone in here can help me? Otherwise I may just buy a crazyparts Madagascar board.
I have not decided yet how to tackle the headstock or tailpiece issues. I have a holly veneer on the way, and I will perhaps try to inlay it *around* the logo.
A sideways wiggler is about $1k for a real vintage one... way too much for my tastes, and I don't really want to go the stop-tail route.
FROM THE OTHER THREAD:
So I just picked this up this morning.... It's going to be a long project. I'm going to need parts, patience, and resolve.
At some point, the previous before last owner went bonkers and destroyed his 1963 Les Paul Standard with the "good" intention of converting it into a Les Paul Custom.
I picked it up in an early 70's rectangular purple lined Gibson case, with a '77 T-Top and a Gibson USA humbucker in its current condition for a decent price. The seller told me somewhere he has a ziplock of parts including TRC and Tuners, and maybe pickguard and more, and when/if he finds them, they are mine. He's moving out of state and clearing out, so it's just a matter of if he finds them. FINGERS CROSSED!
The Good:
The truss rod works.
No headstock break!
The finish was stripped chemically, so all the contours are intact.
The awful ebony fretboard came off easily.
The original logo still exists. Is this good? Or just a consolation prize?
I have some experience in luthiery and repair.
It's going to be a functional guitar again.... eventually... hopefully.
The Bad:
Ugh.... the middle pickup route.
The neck was off at some point and the tenon was modified with some maple and rubbery glue... Needs definite improvement.
The headstock... An absolutely horrific attempt at binding and inlay. Honestly, if it was done well, I would have considered leaving it as part of the history of the guitar.
The Ugly:
Random putty and filler all over the guitar. I scraped some off and there's no damage beneath. I don't understand.
Burn marks where the monster who attempted this removed the original Braz board.
All the aforementioned "Bad"... it's all badly done and ugly. The inlays on that board were horrific, it came off immediately.
I'm in the Pacific NW and have some luthiery connections in the Bay Area I hope to tap into. Money is tight... but I want this done properly.
I'm all ears to suggestions and advice. Worst case scenario, if I don't hear from my seller regarding parts, I will likely buy a complete set of parts from MojoAxe or Crazyparts.
Fretboard & Headstock:
Braz being what it is, I am tempted by the crazyparts pre-inlayed Madagascar fretboards. I have no idea what I'm going to do about the headstock. I was thinking of re-routing the binding channels and inlay channels, and inlaying maple and binding with mahogany.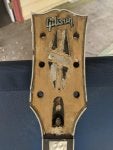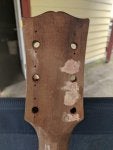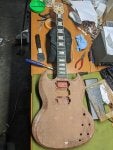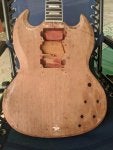 PART 2: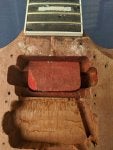 In the two photo's above, you can see the neck joint "repair".
It wasn't really easy to see exactly what had been done here.
There was a sliver of stained mahogany veneer glued atop a maple tenon. I could see multiple layers of wood beneath this maple, and had assumed that the original tenon was down there somewhere, as this maple protruded rather high. My plan was to route the maple off and glue a mahogany plate in to make the repair invisible.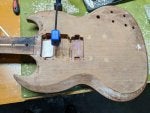 In this photo you can see the maple after I routed it down flush with the pickup route. I didn't find the original tenon down there.
The joint then failed with the slightest pressure while I was scraping putty off the headstock and removing the horrible inlays, so I decided to remove the neck and see if I couldn't clean it up and reglue it securely.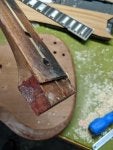 Suffice to say... that was not going to happen. There were multiple layers of tapered maple in there, nothing left of the original tenon. These layers were dowelled together and to the neck.
There were at least 2 types of glue in there, I believe superglue was used on the neck, but the rest of the maple was glued with some sort of extremely soft rubbery glue that never actually adhered anything together very well at all. A lot of the maple popped right out... the dowels basically just fell out.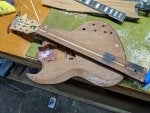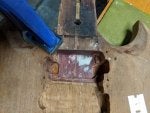 There was also a bunch of red dye between every layer, and in the neck mortise. I'm sure this contributed to the shoddyness of this glue joint.
I'm going to completely rebuild the tenon, and it's going to get glued back together with hide glue... making absolutely certain that it will be a good joint for years to come.
[/QUOTE]
Last edited: