Joined

Jun 24, 2012
Messages

1,024
Reaction score

1,478
I'm making a small speaker Junction Box to run 1, 2, 3 or 4 speakers from my 1958 Bassman 5F6-A 4x12 with the Celestion Blue Speakers. Basically to use my amp as a 4x12 speaker with 3 combinations.
The idea is to be able to plug 2 of the 8 ohm Blues in the box and then run a Rca to RCA Jumper speaker cable from my Tweed Champ, Princeton or Vibro Champ to get the 4 ohm load. The Tweed Princeton sounds killer with the 2 Celestion Blue speakers.
Since all the jacks will be wired together in the box, I can use the 1/4" Jacks on both ends, or the 4 RCA Jacks on the top of the box.
To use the Tweed Princeton I will plug the two Blues into 2 of the RCA Jacks, then the speaker wire will connect to one of the two RCA Jacks left on the box to use.
When I want to use my Super Reverb and the 4 Blues for the SR, I will simply plug the 4 Blues in the RCA Jacks and the 1/4" Jack on the end will connect the 1/4" to 1/4" Speaker wire to the Super Reverb.
This small box will allow me to use my 4 Celestion Blue Speakers as a 4x12 cab with 2 ohms (4 Blues), 4 ohms (2 Blues) or 8 ohms (Single Blue)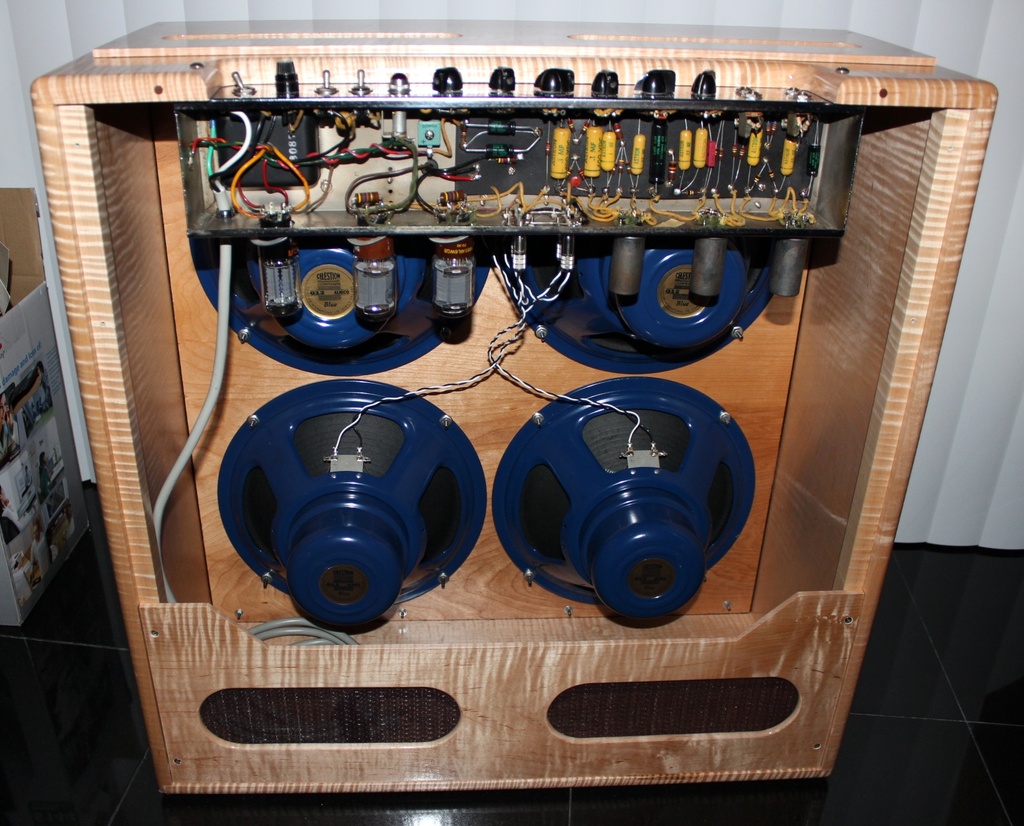 The Box will Velcro under the chassis right next to the right side rounded vent slot in the top panel. Velcro will allow me to mount it to the top/back panel as well.